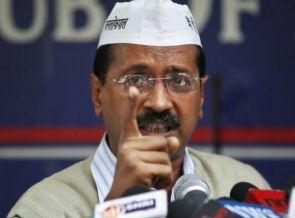 Aam Admi Party, the second largest group in Delhi assembly with 28 seats, on Friday night spurned Congress' offer of unconditional support to form a government as the city state stared at the prospect of President's Rule.
Congress sent a letter to Delhi Lt Governor Najeeb Jung offering unconditional support to AAP to form the government stating the party would not like to put the burden on people of fresh election in the city state.
Congress' offer of support came ahead of Jung's meeting with AAP leader Arvind Kejriwal on Saturday at 10:30 am to discuss government formation. Soon after Congress' offer of support, top AAP leaders met in Ghaziabad late on Friday night and decided to spurn the offer.
"We are sticking to our decision (not to form the government", Manish Sisodia, a member of AAP Political Affairs Committee and a newly-elected MLA, said after the meeting of the top leaders of the party.
Another AAP leader Sanjay Singh said the party has decided not to give or take support from either Congress or BJP. AAP's refusal to form government came a day after BJP also declined to do the same citing lack of majority in the assembly.
AAP emerged as the second largest party with 28 seats in the 70-member Delhi assembly, just behind BJP which finished on top with 31 seats on its own (plus one seat of its ally Akali Dal) but fell short of majority mark of 36.
Delhi Pradesh Congress Committee president J P Agarwal said a letter has been sent to the Lt Governor offering support of eight Congress MLAs to AAP so that a new government can be put in place at the earliest. "We have decided to extend unconditional support to AAP so that it can form a government. The people of Delhi must get a government. It is the responsibility of AAP now to form the government," Agarwal told PTI.
After a meeting of senior leaders, AAP leader Yogendra Yadav told the media that when legislature party chairman Arvind Kejriwal meets Lt Governor Najeeb Jung on Saturday, he will tell him that the party does not have the majority and was not inclined to form a government.
"The Lt Governor has sent a letter to Kejriwal formally inviting AAP to discuss government formation. We are going to meet him at 10:30 am. We will explain to him our position. We will tell him that we do not have majority. Also, we are not the largest party in the assembly. We will put before him all these views. We do not favour manipulative politics," Yadav said.
He said AAP will submit a memorandum explaining its position. Yadav claimed that because of AAP, the other parties have also changed their strategy by not staking their claim contrary to their earlier practice elsewhere of forming governments by hook or crook.
On Thursday, BJP turned down the Lt Governor's offer for government formation.
After a meeting with Jung who invited him to discuss government formation, party's chief ministerial nominee Harsh Vardhan said BJP would like to sit in the opposition in view of the lack of clear mandate by the people of Delhi.
Image: AAP leader Arvind Kejriwal will meet Delhi LG Najeeb Jung on Saturday