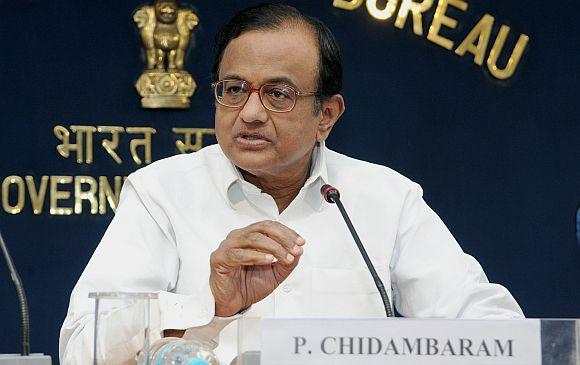 'The Congress can't return to power unless it reins in prices, lowers interest rates, taxes the rich,' says Praful Bidwai. 'If this means sacking those most responsible for the UPA's pro-big business policies including Finance Minister Chidambaram, so be it!'
The main message from the Madhya Pradesh, Rajasthan, Chhattisgarh and New Delhi assembly elections is stark. The Congress stands routed and faces further decline.
The Bharatiya Janata Party has made impressive gains, which indicate a likely upturn. And the Aam Aadmi Party has made a spectacular debut in Delhi.
None of this augurs well for the ruling United Progressive Alliance.
These states account for 72 Lok Sabha seats. So it would be wrong to extrapolate this verdict to the 2014 national election to 543 seats. But the national mood is clearly turning against the UPA, above all because of rising prices, as recent opinion polls by Lokniti-CSDS show.
Unless the UPA executes radical changes in economic policy, political strategy and top personnel, it is likely to lose power.
The results have led some commentators to argue that India is entering a new political era in which the old equations of class, caste, community and other identities don't hold, issues of poverty and inequality don't matter, and worthy schemes for people's welfare don't affect electoral outcomes.
On this view, what matters is the new 'aspirational' typically middle class or upwardly mobile, voter who doesn't want welfare. It is to this layer that Narendra Modi has the greatest appeal.
So the BJP's victory is attributable in good measure to him. It is quintessentially Modi's election, and so will 2014 be!
This inference does not stand scrutiny.
As we see below, the results confirm that the old equations remain abidingly relevant. Parties that skilfully work with them can and do win elections.
Besides, Modi's campaigning had no significant impact except in Rajasthan, where it wasn't decisive.
First, a word of caution. The four states have long been largely bipolar, with the BJP or the Congress either in power or leading the Opposition.
In 2008, the BJP won 50 percent of their 590 seats. Now its share has risen to 70 percent. While this is a major gain, such results don't necessarily translate into subsequent Lok Sabha outcomes.
For instance, in 1998, when Madhya Pradesh was undivided, the Congress sealed a 3-0 win against the BJP. But the BJP-led National Democratic Alliance went on to win a second Lok Sabha term in 1999.
In 2003, the BJP won in three of the four states, but was humbled by the UPA in the 2004 Lok Sabha polls.
In 2008, the Congress-BJP assembly election score was 2-2. Yet, the UPA achieved an even more emphatic Lok Sabha election victory in 2009.
This does not deny the significance of the BJP's superior performance vis-a-vis the Congress in all four states. But even more salient is the Congress's rout, leading to a virtual halving of its four state seat tally.
The BJP's victory was decisive in Rajasthan and MP, but compromised or relatively thin in Delhi and Chhattisgarh, where it was in neck-to-neck contest with its opponents.
In Delhi, the BJP not only failed to win a majority, but lost its vote share from 36.3 to 31.4 percent. The biggest loser was the Congress, which collapsed from 43 seats to a pathetic eight, its vote share falling from 40.3 to only 23 percent, a historic low.
The greatest gainer was the Aam Aadmi Party, which won a sizeable 27 percent of the vote despite fielding many unknown candidates.
The AAP won handsomely in slums and poor neighbourhoods, and bagged nine of the 12 reserved Scheduled Caste seats.
Arvind Kejriwal inflicted a humiliating 25,000-plus vote defeat on Congress Chief Minister Sheila Dikshit, winning more votes than her and the BJP candidate combined.
In Chhattisgarh, the BJP won 49 seats to the Congress's 39, but the difference in their vote share was less than 0.7 percent -- just 60,000 votes of a total of over 11 million.
It is plausible that the Congress would have scraped through, as was expected by many, had its top state leadership not been wiped out in an extremist attack in May, had internal factionalism been contained, and had it campaigned with as much gusto in the central region as it did in the north and Bastar in the south.
In the end, what saved the day for the BJP were Chief Minister Raman Singh's welfare schemes, especially his remarkable revamping of the Public Distribution System, which made foodgrains affordable for nine-tenths of the population, and other measures wrongly branded as populist -- in other words, some of the old equations which address poverty and deprivation.
The electoral effects of welfare measures were screamingly obvious in MP too, where Chief Minister Shivraj Singh Chouhan launched a series of schemes, including a better PDS, a vigorous National Rural Employment Guarantee Act programme, free bicycles for schoolgirls, provision of rural infrastructure, drinking water, roads, etc.
Chouhan also built on his OBC status, and contrasted his humility with the hauteur of former Congress chief minister Digvijaya Singh, who let MP languish in backwardness during his 10-year-long tenure.
Chouhan also stressed MP's emergence as India's highest-growth state with rising development indices, which have pulled it out of its former Bimaru (Bihar-MP-Rajasthan-Uttar Pradesh) status signifying acute deprivation. The faction-ridden Congress was no match for him.
If the BJP's two-thirds-majority victory in MP was impressive, its stellar performance in Rajasthan was beyond its own wildest dreams.
Bagging over 80 percent (162 of 199) of seats, and 45 percent of the vote, it reduced the Congress to just 21 seats, with all but three of its 27 ministers losing.
This 12 percentage-point lead breaks the recent 2-4 percentage-point-vote-difference pattern between the two and replicates the lead Congress had established in 1998 under Ashok Gehlot.
This raises the question: Why didn't Gehlot's famed recent welfare measures -- including free medicines and subsidised food, old-age pensions, housing for tribals and Dalits, more government jobs, and India's best record on NREGA and Right to Information -- help him?
Numerous factors worked against him, besides rising prices, which blunted the effect of his welfare measures.
These include alienation of the Jats and upper castes, who never quite reconciled themselves to this OBC leader; disillusionment among Muslims let down by the Gopalgarh firing (which the BJP exploited by fielding four Muslims, two of whom won); and the farmers' dissatisfaction with deteriorating power supply amidst a worsening agrarian crisis.
Ironically, NREGA's success in Rajasthan itself became a liability. It raised rural daily wages to Rs 300 to Rs 350, adding to farmers's woes.
Flaws or administrative laxity in the delivery of services, poor public communication about various schemes, cash transfer for cooking gas cylinders, and corruption in implementation, worked against Gehlot.
To this was added distribution of tickets to elite nominees of Rahul Gandhi's advisers who have little comprehension of ground realities, C P Joshi's appointment as Congress campaign chief -- thus undermining Gehlot's claim to the chief minister's post -- and a degree of internal sabotage.
An additional factor was Modi's takeover of election micro-management, especially in southern Rajasthan. Modi deployed 20 to 25 Gujaratis at each polling both in areas bordering Gujarat. His agents allegedly inflamed middle-class Hindu prejudice by citing the Muzaffarnagar episode and spreading rumours about 'love jihad' among the Jats.
Unsurprisingly, it is only in Rajasthan that Modi's rallies were both well attended and electorally effective in 23 constituencies. His 20 meetings there led to a doubling of the BJP's seats to 20.
In MP and Chhattisgarh, he addressed respectively 15 and 12 meetings. They had a poor, dwindling turnout. His first rally in Bhopal (September 25) attracted about 500,000 people. But as curiosity wore out, his November 18 rally there drew just 4,000. In Sagar (Bundelkhand), he attracted only 400.
In Baghelkhand (MP), where Modi ran an intensive campaign, the BJP's tally fell from 21 (of 29 seats) to 20.
In Chhattisgarh, he attracted much smaller crowds than Rahul Gandhi. The BJP's score there fell from 35 (of the 62 constituencies targeted) to 34.
The Congress retained its seats in this segment despite losses elsewhere. In both states, the audiences were enthused more by their CMs than by Modi.
Modi's six rallies in Delhi didn't help the BJP stem the AAP tide or defeat the Congress. Modi addressed meetings in Chandni Chowk and Sultanpur Majra. The Congress retained both seats. In Rohini (Northwest Delhi), many among the bored audience left before he finished his speech. His appeal is limited and may be decreasing.
That is no consolation for the Congress. Its prospects remain gloomy. It cannot return to power unless it radically corrects course by adopting combatively anti-communal and anti-elitist policies.
It must rein in prices through the Essential Commodities Act, reduce petroleum product tariffs, lower interest rates, tax the rich, and launch yet more rights-based pro-poor welfare measures.
If this means sacking those most responsible for the UPA's pro-big business policies, including Finance Minister P Chidambaram and Planning Commission Deputy Chairman Montek Singh Ahluwalia, so be it!
The alternative is decimation.