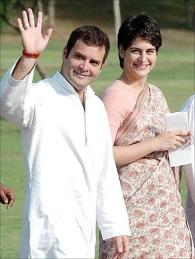 Party doubles efforts to retain family strongholds, declares Priyanka will focus on these two constituencies, says Kavita Chowdhury
The advent of the Aam Aadmi Party in Uttar Pradesh, that too in the Gandhi family bastions of Amethi and Rae Bareli, has the Congress worried.
The enthusiastic response Kumar Vishwas got in Rahul Gandhi's constituency of Amethi over the weekend has added to Congress's woes.
The Congress said on Monday Priyanka Gandhi would be focusing on the two constituencies primarily. Also, for the first time, possibly, organisational revamp in the state is going right down to the district and block level, with new party unit heads being appointed to ensure the Congress reaches out to the public.
Rahul Gandhi cancelled his rally at Amethi on January 10 at the last minute. The party cited a waterlogged venue, but the AAP said the Congress scion had developed cold feet.
"At no cost can we afford to take it easy in these two VIP constituencies," said a Congress leader.
In the 2012 elections, the Congress had won two of the five seats in Amethi while the Samajwadi Party won the other three. The Congress lost the Amethi seat. In neighbouring Rae Bareli, the Congress lost all five seats.
In Amethi, Vishwas questioned the development in Rahul Gandhi's Lok Sabha constituency through all these years. Said a senior Congress leader, "First they (AAP) hijacked our slogan 'aam aadmi' and now we have to ensure they don't usurp our stronghold and embarrass us."
The Congress is hoping the AAP effect would remain confined to urban pockets.
It is training its guns on attacking the ruling Samajwadi Party and is holding a protest in the state on January 21 against the Muzaffarnagar riots and the woes of sugar cane farmers. It will also protest the SP's refusal to implement the Food Security Law.
Looks like the Congress has more on its plate than it can handle in Uttar Pradesh.