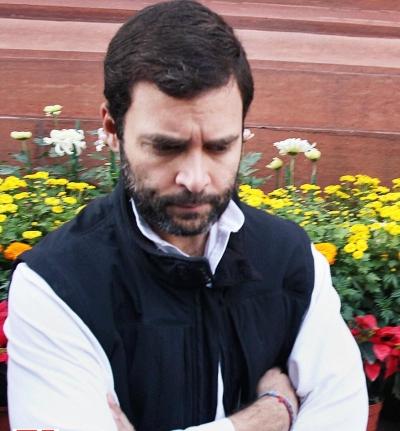 'What has Rahul done for this constituency?'
'No outsider has any place in Amethi.'
Sharat Pradhan gets mixed reactions from locals, as the Aam Aadmi Party takes a stride into the bastion of the Congress VP.
Protests by Rahul Gandhi supporters notwithstanding, Aam Aadmi Party leader Kumar Vishwas's foray into Amethi -- the political bastion of the powerful Congress vice president who is all se to be names at the party's prime ministerial nominee -- has surely made the desired impact.
Any kind of challenge to the Gandhi scion in this pocket borough was unprecedented. And even though bulk of the locals are yet to make up their mind on saying goodbye to Rahul, a section of the population appears to be in a mood to pose some uncomfortable questions before him this time.
"We would want to know what he has done for this constituency in so many years that the family has been in power at the Centre," asked Bansidhar Shukla, who had travelled from Jamo village to listen to Kumar Vishwas in Amethi.
"When our own MP with full control over the central government has failed to give us our due, what can we expect from an apathetic state government," he asked.
Ranbir Singh, a young farmer felt, "The AAP has done a good job in Delhi where people have risen to the occasion to give their mandate to a completely new political outfit. I think the time has come for us too to break the shackles and give a chance to them to bring about some change here too."
According to Rabbani Mian, who runs a Muslim trust, "The AAP has ushered a revolution in this country. I am sure a lot of Muslims would be inclined to support this party in Amethi too. We all have had enough of insensitive leaders who are not bothered about the common man."
However, many seemed to disagree with the hopes reposed on the AAP. While conceding that Rahul had not been able to do much for the people of Amethi, Akhilesh Singh, a student, felt, "Still there is no reason why Rahul Gandhi will not win from here. He has very deep roots here and the Gandhi family is loved by the people here."
Local farmer Shashi Kant Misra hit out at Kumar Vishwas, terming him as a "rank outsider".
According to him, "no outsider has any place in Amethi, which has earned all its importance only due to the Gandhi family. So how can we think of supporting anyone else?"
Yet another farmer Ram Dulare is also not too sure about switching loyalties from the Congress to the AAP. "You see the AAP is new to the people of Amethi. We did not know about it until the arrival of Kumar Vishwas today. I am told they are doing a good job in Delhi. But it is too early for me to decide that we should give them a chance straight away. Let us wait and watch whether they really fulfill all the promises they have made to people of Delhi," he pointed out.

Image: Congress Vice President Rahul Gandhi

Photograph: Pressbrief