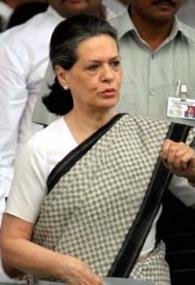 I believe this is what really happened at the Congress Working Committee on Wednesday.
Called specifically to discuss the Telangana issue, CWC had a heated discussion and when Mrs G asked for a vote, there were as many hands for the 'ayes' as there were for 'nays'.
Frustrated, tired and wanting to go home for cucumber sandwiches, Mrs G, in her own foreign ways, said, "Okay, this is enough for the day. Let's split."
Dutifully, Digvijaya Singh came out and told the throng of media people waiting outside that CWC had decided to split the state of Andhra Pradesh into two, one of them being the spanking new Telangana.
Alternative history shows that politicians have a special relationship with English idioms that have "split" in it. Haven't you heard, for instance, that an intrepid advisor had once gone to the Dravida supremo and suggested that the party should not split hairs over power generation, whether it came from Koodankulam, Mettur, Neyveli or Narimanam.
The Dravida chief took off his dark glasses and thought long and hard and seemed to detect a hint of a conspiracy in the advice, because he sent one son to New Delhi while keeping the other son back at home. Asked why, he growled he was splitting heirs since that was the right thing to do to control the power situation.
And, of course, everyone knows of split personalities. Take the recent example of a Congress bigshot. Like all politicians he has several quick-change personas to be deployed as the situation demands.
His darker personality described a prominent rival as not being good enough even to sweep the floors of the Rashtrapati Bhavan. His second personality emerged immediately to clarify that no, the said rival was really good, so how could he be just sweeping floors?
"We have been misquoted," he added for good measure, the "we" clearly indicating his own acceptance of his several split personalities.
The "split" expression most used of politicians is, as everyone knows, the one related to splitting the difference. No, don't think this is related to all the sharing that must happen in secret dens post the scams.
The confusion is due to the way things are said in the Received Indian Pronunciation. The more correct pronunciation would be "splitting the deference".
This happens in all parties because the deference to the source of command has to be split between two supreme beings of the same surname -- Mrs G and Mr G, Banerjee didi and Banerjee dada, Yadavji and Yadavji, Badal paaji and Badal paaji, Thiru, Thiru and Thirumati. You get the point? Even in non-dynastic dispensations, survival depends on "split deference" and it takes years of training in doublespeak to ensure Advaniji thinks you are an honest ally even as Modi ji thinks you are his right-hand man.
It's only in the one-man Janata Party that this problem doesn't exist. In any case, there the party president always defers to his own genius.
Finally we come to what happens when one group upsets the apple cart of the other. As happened when the party that believes in an India of hundreds of states suddenly found the status quoist khadi wearers rushing to create a new Telangana.
With gall choking their throats, saffronites came on TV and mumbled, "We welcome the decision". Then they wailed, "But what took the Congress so long to do this?" This is called crying over "split milk"… the type that leaves a sour taste in the mouth.