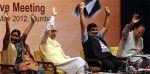 Congress on Wednesday attacked the Bharatiya Janata Party for giving a clean chit to its President Nitin Gadkari facing charges of owning shell companies, alleging it has shown the "bankruptcy" of the opposition party's leadership and the "mask" has now come off "exposing its real face".
I and B Minister Manish Tewari told reporters that "this is a strange process and an incredible mechanism in which the informer, investigator and the judge is the same".
He was apparently ridiculing the move by BJP to get a detailed presentation on investments made in Gadkari's company Purti Sugar and Power by chartered accountant S Gurumurthy.
Gurumurthy, an RSS ideologue, was specially invited at the meeting of BJP Core Group yesterday, after which the party announced its backing to Gadkari.
"The mask is off. The real face of BJP, which used to demand the resignation of Prime Minister Manmohan Singh every now and then, stands exposed now," Congress spokesperson Renuka Chowdhary said at AICC's media briefing accusing the party of "double speak" on the issue of corruption.
AICC general secretary B K Hariprasad said BJP's giving a clean chit to Gadkari shows "bankruptcy" of the party leadership and its ideology.
In a stinging remark, he advised Gadkari that he "should close political office and to be back to his business...his Purty group".
Chowdhary described as "divide between RSS-members and non-RSS members in BJP" the demand by Ram Jethmalani for Gadkari's immediate resignation with apparent backing of some senior leaders including Jaswant Singh and Yashwant Sinha.
"That is for Jethmalani and BJP to sort it out. There is a clear divide between RSS-members and non-RSS members within BJP."