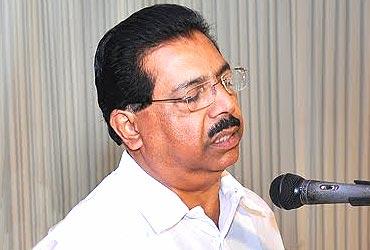 Chairman of the Joint Parliamentary Committee on 2G scam P C Chacko on Wednesday ruled out summoning Prime Minister Manmohan Singh to depose before the panel, saying there was no such precedent.
"It is out of the question to call the prime minister before the JPC as witness as there is no precedent of calling the prime ministers before the JPCs," he told PTI.
On reports that the Bharatiya Janata Party is likely to attend the JPC meeting on Thursday, ending its boycott of the panel to once again press for inclusion of Singh and Finance Minister P Chidambaram as witnesses, he said it was 'most welcome'.
The BJP members reported decision to attend the JPC meeting has proved that there was no justification for their boycott, he said. On summoning Chidambaram as witness, Chacko said it would be 'decided on the basis of consensus'.
Referring to the allegation of Communist Party of India leader Gurudas Dasgupta that the attorney general was not called before the JPC on October 11, Chacko said he was out of the country that day.
Attorney General G E Vahanvati would be appearing before the JPC, he added. He said the extended period of the JPC would expire by December and one more extension would be essential as only 75 per cent work was completed.
The mobile operators association had been called for Thursday's JPC meeting, Chacko said.