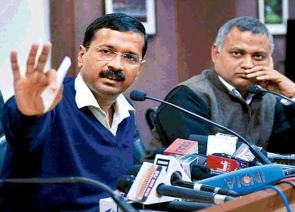 Delhi Chief Minister Arvind Kejriwal on Thursday met Lieutenant Governor Najeeb Jung and is believed to have discussed the controversy surrounding Law Minister Somnath Bharti, who is under attack for allegedly heading a group of assaulters in a midnight raid in south Delhi.

The meeting came a day after various women rights activists and Delhi Commission for Women sought action against Bharti for allegedly taking law into his hands.
Kejriwal is under intense pressure to sack Bharti. A Congress delegation will meet Jung too and is expected to demand Bharti's removal.

The Aam Aadmi Party government has come under attack from rivals and women's activists who said the chief minister had staged a two-day dharna in the name of women's safety but was following "double standards" on the issue of the minister.
Bharti was involved in a row with the police last week when they refused to raid an alleged drug and prostitution racket following which he allegedly led his supporters in forcing African women to give urine samples.
With the minister becoming a source of a major embarrassment, AAP has advised him to be "careful and humble" while making public statements.
A number of party leaders are said to be upset with Bharti who had earlier stoked controversies by seeking a meeting of Delhi judges and was involved in talking to a witness he was cross examining as a lawyer.
One of the African women, who has recorded her statement before a magistrate, had said she identified Bharti as having led the group that barged into her house and attacked them.
"We were attacked on Wednesday night by Indians who were led by Somnath Bharti...We were harassed, we were beaten, they were having long sticks. They said we should leave their country or else they would kill us one by one," the Ugandan national had said.
Bharti has refused to make any comments on the demands for his removal while the party and his colleagues came in his defence, saying any citizen, more so a minister has the right to ask police to act on any illegal activity.

Image: Delhi Chief Minister Arvind Kejriwal and Law Minister Somnath Bharti