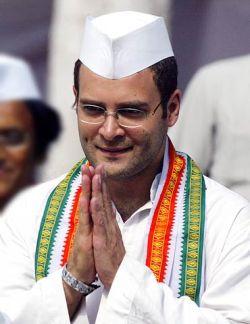 With Manmohan Singh clarifying that he will handover the baton after his term comes to an end, the Congress is all set to name Rahul Gandhi as its prime ministerial candidate for the Lok Sabha elections. However, before making the final announcement, the party would consult its members like the Aam Admi Party, reports Renu Mittal.
In what is being seen as a carefully choreographed screenplay between the Congress and the prime minister, Dr Manmohan Singh on Friday held a rare press conference to bid farewell and announce that he would handover the baton to a new leader if the United Progressive Alliance government retained power after Lok Sabha elections.
The PM said, "I hope it will be a UPA-chosen prime minister and our party will work to that end in the campaign for the general elections. I am confident that the new generation of our leaders will also guide this great nation successfully through the uncharted and uncertain waters of global change".
Although Dr Singh did not jump the gun by directly naming Congress vice president Rahul Gandhi for the PM's post, the party later in the day sought to point out that there was nothing new in this announcement.
All India Congress Committee general secretary Janardhan Dwivedi stated, "In 2009 the party had said that Manmohan Singh will be the prime minister till 2014. And we have fulfilled that promise".
On January 17, the Congress has called an AICC meeting where it is widely expected that Rahul Gandhi will be formally named as the party's prime ministerial candidate.
It is also expected that like the Aam Admi Party -- which formed the government in Delhi by consulting its voters and supporters --,the Congress will speak to its AICC and PCC members before making the final announcement.
Dwivedi further said, "Everyone knows that after (Congress president) Sonia Gandhi, Rahul Gandhi is the next leader. Whenever the question of PM candidate arises, it will be Rahul Gandhi. However, the timing of the announcement remains to be seen".
"The Congress follows a process before arriving at a decision, and the same will apply here as well," he added.
Dwivedi did not give much credence to the viewpoint that the party may not name Rahul as its PM candidate as it is seen on a sticky wicket ahead of the Lok Sabha polls. "Winning and losing are parts of politics and do not influence decision-making," he said, adding, "Congress is a 128-years-old party and would not take a decision only if the party is seen to be on a good wicket".
Sonia Gandhi had earlier made it clear that the decision to announce a prime ministerial candidate would be taken at an opportune time and there is a perception that Congress will not lose much by naming Rahul Gandhi.
With Manmohan Singh ready to bow out of office after 10 years of power, he emerged as a reluctant quitter on Friday who has become so attached to his chair that he has not even worked out his options after stepping down. He said he still has five months to go and can do a great deal of work in that time, adding he never felt like resigning nor was asked by the party leadership to step down at any time.
What is interesting is that when speaking about the post-LS poll scenario, Dr Singh did not name Rahul Gandhi but said he was confident that it would be a UPA government and the prime minister would be decided by the Congress-led alliance.
On a specific question on Rahul Gandhi, Dr Singh did say Rahul Gandhi has outstanding credentials to be nominated as the party's prime ministerial candidate, but added that Sonia Gandhi has made it clear that an appropriate decision would be taken at the opportune time.
The prime minister patted himself on the back over the running of a coalition government for the last decade, saying there was an impression that the Congress could not handle coalition governments.
The prime minister also admitted that a dual power centre was not a disadvantage, since Sonia Gandhi backed the government which enabled them to take difficult decisions.
Image: Rahul Gandhi