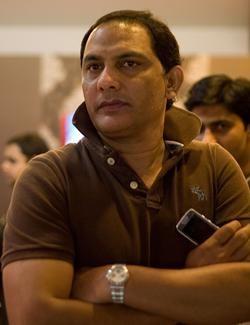 The Congress plans to ensure that even if its candidates fail to register a win in the Lok Sabha seats in West Bengal, the benefit should go to the Left Front and not to friend-turned-foe Mamata Banerjee's Trinamool Congress. Renu Mittal reports.
Former Team India skipper Mohd Azharuddin, a Congress MP from Uttar Pradesh's Moradabad, is all set to cross the state frontiers and contest the Lok Sabha elections from Howrah in West Bengal.
Sources say that Azhar's name was cleared by the party screening committee in a meeting late on Sunday night, and now the move awaits Election Commission's approval.
The Hyderabad-born cricketer-turned-politician was on a sticky wicket in Moradabad and had been looking for a safer seat for a while. His first choice was Murshidabad in West Bengal, but Congress MP and Union minister Adhir Ranjan Chowdhury, the local strongman, has been made the Pradesh Congress Committee president and won't be disturbed from his bastion.
The Howrah constituency has a considerable Muslim population and should be a good seat for Azhar, as he is supposed to attract a huge chunk of cricket fans as well.
Sources in the Congress say that the party's strategy is that even if it does not win, the choice of Azhar would help the Left Front seal the seat, keeping Mamata Banerjee's Trinamool Congress out of the reckoning.
In fact, the move is a part of the larger strategy to counter the Trinamool Congress wave in West Bengal.
The party has also opened up a dialogue with the Gorkha leadership in the northern part of the state, and if sources are to be believed, former Indian football captain Sam Thapa can be fielded to thwart Mamata's advances in Darjeeling.
Meanwhile, the decision to appoint Adhir Ranjan Chowdhury as the West Bengal PCC president replacing Pradip Bhattacharya has come as a shot in the arm for the Congress and has sent a clear signal that there is no tie up on the cards with the ruling Trinamool Congress. The move was strongly supported by state leaders who consistently complained they were being humiliated by Chief Minister Mamata Banerjee and rooted to contest alone.
The choice of Adhir, considered close to President Pranab Mukherjee, was also cemented after the Congress and the Left lost their combined candidate for the Rajya Sabha and Mamata ensured that MLAs from both the Left and the Congress voted against their candidate.
"This has worsened the situation between Mamata and the Congress", a Congress leader remarked.
The popular perception is that in the post-poll scenario, the Congress should revive its alliance with the Left if it is required, as there are strong apprehensions that Mamata may very well go along with the Bharatiya Janata Party-led National Democratic Alliance. "The Trinamool leader has done that in the past and may well do so again, said a senior leader.
Image: Mohd Azharuddin