The Congress and the Bharatiya Janata Party on Wednesda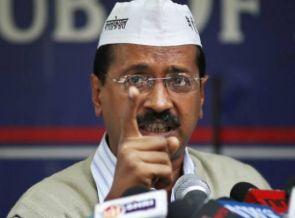 y termed as a "publicity stunt" Aam Aadmi Party leader Arvind Kejriwal's refusal to furnish bail bond of Rs 10,000 in a criminal defamation case following which he was arrested while his party defended him saying he had taken a "principled stand"."It is a matter of principle and not a matter of money. If Kejriwal furnishes the bail bond, that would mean he is guilty. He had given assurance that he will appear before court anytime when called," senior AAP leader Manish Sisodia, who accompanied Kejriwal in the court, said.
But other parties were unforgiving in their criticism, insisting that the law is the same for everyone. The BJP said that the former Dehi chief minister was acting like a "spoilt brat" after the loss in Lok Sabha polls while Congress said he had "lost his mental balance" following its decision not to extend support to the AAP to form government.
Kejriwal was sent to Tihar Jail till May 23 by Delhi court after he refused to furnish bail bond in a criminal defamation complaint filed against him by BJP leader Nitin Gadkari.
Hitting out at Kejriwal, the Congress said the former chief minister has even dared to challenge the judiciary. "He has lost mental balance following the Congress' decision not to extend support to the AAP to form a government again in Delhi. He is hungry about power. Now, he even does not care about Janlokpal Bill and other issues," said Delhi Congress' chief Spokesperson Mukesh Sharma.
"We condemn his act. We do not have any sympathy for him. Law is equal to everybody," he said. BJP leader Harsh Vardhan said Kejriwal had levelled wrong allegations against party leader Gadkari who gave him a fitting reply by filing case against him.
"The type of politics that he (Kejriwal) is continuously pursuing in this country has been grossly and thoroughly rejected by the people of India and more particularly by the people of national capital.
"I don't think any more dramas' of this nature would help him," he said. Senior BJP leader Vijender Gupta termed Kejriwal's action as a "publicity stunt" to gain political mileage.