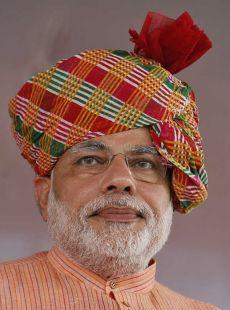 Gujarat Chief Minister Narendra Modi's tweet that Congress president Sonia Gandhi should have been taken to hospital in a "well-equipped" ambulance provoked a Congress attack on him saying politics should not be played on the health of leaders.
Wondering "whether any human being can raise such questions", party spokesperson Bhakta Charan Das said, "I think in a civilised world, leaders should not do any politics on the health condition and treatment of others".
Das was reacting to Modi's tweet this morning wishing Gandhi best of health and his remarks that he was "concerned that basic medical emergency procedures were not used".
"Would have been better if a wheel chair or a stretcher was used in Parliament. Considering her health, Soniaji should have been taken to hospital in a well-equipped ambulance. Still, doctors are best judges," Modi had tweeted.
Objecting to Modi's remarks, Das said "there is a doctor, there are medical facilities but suddenly she came out. At that moment, those who were there with us or whatever was the advice, it's all private thing that she was taken to the hospital. Is that the thing we should debate? I do not think any human being would raise these kinds of questions".
Parliamentary Affairs Minister Kamal Nath earlier responded to Modi's remarks saying "all arrangements were there. What was considered appropriate by Mrs Gandhi and Rahul Gandhi and the medical team, which was attending to her, was done".
Asked whether Modi was trying to politicise the issue, Nath said "Modi must himself decide what he is trying to do."
Gandhi was discharged early today from AIIMS where she was admitted after being taken ill last night in Lok Sabha.