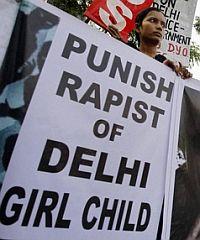 The condition of the five-year-old girl, who was raped allegedly by two youth, is stable and her perineal wounds are healing well, doctors said on Wednesday.

"The girl is afebrile. Her vital parameters are normal and her general condition is stable. Her urine output is normal and colostomy is functioning well," Dr D K Sharma, Medical Superintendent of AIIMS, said in a medical bulletin.
He said she is on full oral intake.
"She was examined and redressed under general anaesthesia yesterday. Her perennial injuries are healing well," he said.

On Tuesday, doctors had said that she was recovering as "expected".
The child was raped at a residential building in east Delhi's Gandhi Nagar on April 15 and was recovered 40 hours later. She was shifted to AIIMS on April 19 evening from SwamiDayanandHospital.