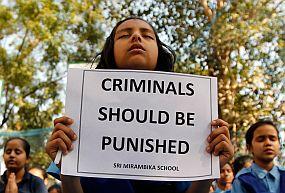 The five-year-old girl, who was raped allegedly by two youth eight days ago, is active and recovering as "expected", doctors said on Tuesday.

"She has had a good breakfast. Her fever has come down. And she is afebrile (not feverish) now. Her colostomy is functioning normally," Dr D K Sharma, Medical Superintendent of AIIMS, said in a medical bulletin.
"The five-year-old female child is recovering as expected. She is active and taking adequate liquids and semi-solid food," he said.
The child was raped at a residential building in east Delhi's Gandhi Nagar on April 15 and was recovered 40 hours later only. She was shifted to AIIMS on April 19 evening from SwamiDayanandHospital.

Doctors said it will take another two weeks for her discharge from hospital.