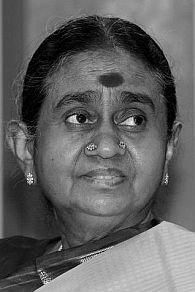 The Chief Metropolitan Magistrate on Monday commenced the process of recording the statement of Dayalu Ammal, wife of Dravida Munnetra Kazhagam supremo M Karunanidhi, in the 2G Spectrum case.
The CMM Gopalan has been appointed as Commissioner by the Special Court in the multi-crore scam to record the statement by 85-year-old Dayalu Ammal, who is named as one of the prosecution witnesses in the case.
Gopalan arrived at Dayalu Ammal's residence at about 9.40 am, where police have posted a tight security cover.
Karunanidhi's daughter Kanimozhi, Rajya Sabha Member of Parliament Sharad Kumar, managing director of Kalaignar TV, who are also among the accused in the case involving former telecom minister and DMK leader A Raja, were present.
The Supreme Court on September 22 had exempted personal appearance by Dayalu Ammal before the trial court, but however, directed that she be examined at her residence.
Kanimozhi had filed a plea before the apex court seeking exemption from personal appearance of her mother on medical grounds, which the court had allowed.
Officials of the Central Bureau of Investigation last week served summons to Dayalu Ammal, informing that her statement would be recorded today.
All the 17 accused in the 2G case have been summoned to appear during Dayalu Ammal's deposition today, but CBI sources say some have been exempted.
Former telecom minister Dayanidhi Maran, relative of Karunanidhi, also visited Dayalu Ammal's house.