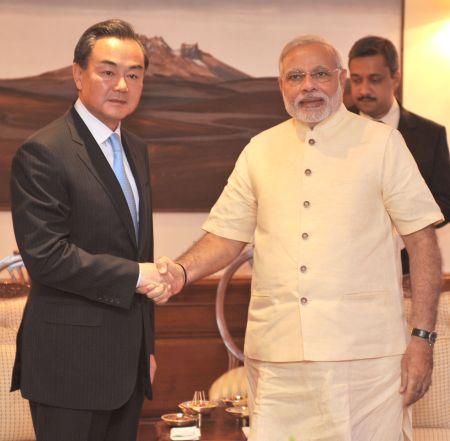 Special Envoy of the Chinese President and Foreign Minister Wang Yi on Monday called on Prime Minister Narendra Modi and conveyed his government's keenness to engage with the new Indian dispensation to strengthen cooperation in key areas.
A day after he held three-hour-long talks with his Indian counterpart Sushma Swaraj, Wang called on Modi at the Race Course Road office and met for 45 minutes. During the call, the External Affairs Minister was also present.
Sent here by Chinese President Xi Jinping as his special envoy to meet with new leadership, Wang is also understood to have conveyed China's support for the development of India. Foreign Minister conveyed a message from President Xi Jinping to Prime Minister in which he congratulated the Prime Minister and the new government.
According to sources, Wang said, "Under your leadership, India will achieve greater development and progress."
He added, "Let us work together to achieve peaceful cooperation and inclusive development for benefit of our two people and in the interest of peace, stability and prosperity in Asia and the world."
Chinese Premier Li Keqiang was the first foreign Head of Government to call up Modi after he took over as prime minister. The Chinese PM had conveyed his government's desire to establish robust partnership with the new government during a call to Modi, who expressed keenness to work closely to deal with any 'outstanding issues'.
Modi had also noted that China was always a 'priority' in India's foreign policy and welcomed greater economic engagement between the two countries. China has already conveyed its interest in having a top Indian leader attend the 60th anniversary of Panchsheel, the five principles enunciated jointly by former Prime Minister Jawaharlal Nehru and his then Chinese counterpart Zhou Enlai in 1954.
Referring to the visit of the 7th century Chinese traveler Hieun Tsang to a monk training school near his village in Gujarat, Modi said "India and China share strong civilisational contacts and should build on them to enhance understanding of each other."
China is hosting a function to mark the occasion on June 28 in which a high-level delegation from Myanmar, which too was associated with Panchasheel concept, is expected to participate. China had already conveyed to India its President Xi Jinping's wish to visit New Delhi.
Image: Chinese Foreign Minister greets Prime Minister Narendra Modi. Photograph: PIB