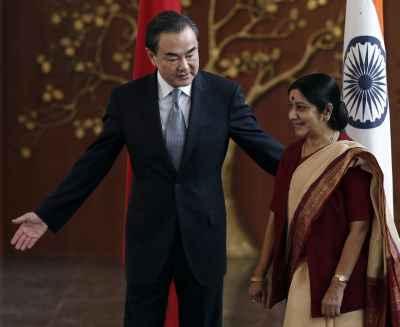 The entire gamut of bilateral ties including the contentious boundary issue was discussed during a "cordial and substantive" engagement between the foreign ministers of India and China in New Delhi who met within two weeks of installation of the Narendra Modi government.
Chinese Foreign Minister Wang Yi and External Affairs Minister Sushma Swaraj met for three hours on Sunday to talk about "perennial" bilateral issues which were not specified by an Indian spokesperson but are believed to have included the boundary dispute, incursions, issuance of stapled visas by China to certain category of Indians, construction of dams on Brahmaputra river and increased Chinese investments.
Dispatched to New Delhi by Chinese President Xi Jinping as his special envoy to meet with the new leadership in India, Wang was effusive in his praise for the new government saying it had injected new vitality into an ancient civilization.
"The international community is closely following developments in India and the Chinese and Indian dreams have a lot of commonalities," the Chinese leader was quoted as speaking by the spokesperson.
The talks were described as "cordial, useful, productive and substantive" by the MEA spokesperson, who said, "Even while there was a determination to add new content and substance to the relationship, there was an understanding that respect for the sensitivities and aspirations of each other was an essential for expansion of bilateral relations."
However, the spokesperson did not specify the issues, saying, "The perennials of India-China engagement are well known to you so I will not list them in a detailed manner but would like to say that all issues of significance were raised and discussed in a frank manner."
Wang, who arrived in the wee hours on Sunday, will call on Prime Minister Narendra Modi on Monday.
The spokesperson said the Chinese leader stated that his country welcomes and supports development of India and also that China was ready to engage with the new government as the two leaders felt that there was untapped potential for growth of economic ties.
The two leaders discussed ways to increase Chinese investments in India through setting up of industrial parks, various infrastructure projects among others. There was also a discussion on how to address India's concern of huge trade deficit of nearly $40 billion, the officials said.
China is India's biggest trading partner with two-way trade standing close to $65 billion.
Swaraj and Wang were assisted by their delegations comprising senior officials from the foreign ministry during the meeting which included a working lunch.
The MEA spokesperson said there was a discussion on the possible opportunities for engagement during the course of the year at high levels -- both in terms of bilateral visits and meetings on the margins of various multilateral meets in which leaders from both the countries are likely to participate.
Noting that potential exists for intensive engagement of leaderships of India and China, he said, "By our count if we take the possible engagements likely between our senior leader ship and that of China I could easily say that there are likely to be at least half a dozen such meetings."
"By senior leadership I mean President, Vice-President, Prime Minister and Foreign Minister", the spokesperson said and termed today's meeting as "productive beginning between the new government of India and the Chinese government".
Asked if issue of counter-terrorism was raised, the Joint Secretary in the China division Gautam Bambawale said the matter did "come up" and noted that there was an India-China joint working group on the issue.
Wang appreciated India's position on the recent terror incidents in China, he said.
About other issues discussed during the meeting, the officials said the two leaders had comprehensive talks on international regional issues of mutual interest.
Asked if nuclear and South China Sea issues figured during the talks, the officials said all "perennial" issues of bilateral, regional and international nature were discussed comprehensively.
The external affairs minister has articulated all issues comprehensively, the spokesperson said.
The MEA spokesperson said Swaraj also sought increase in number of pilgrims for Kailash Mansoravar Yatra as well as more routes to the holy shrine.
He said the External Affairs Minister thanked Wang for keeping the cost of the yatra on the Chinese side constant for the last so many years.
The spokesperson said no decision has been made when asked whether India has agreed to China's request for President Pranab Mukherjee's participation in celebrations marking 60 years of Panchsheel, the five principles of peace proposed by Prime Minister Jawaharlal Nehru and his Chinese counterpart Zhou Enlai in 1954.
From Chinese side, it is understood that the issue of Tibet was raised, with India reiterating its position that Tibet was a part of the Chinese territory and it will not allow Tibetans to conduct political activities against China in India.
According to officials, today's meeting was more to understand each other's positions on various strategic and crucial issues in the India-China relationship.
Image: Chinese Foreign Minister Wang Yi gestures while meeting his Indian counterpart Sushma Swaraj in New Delhi on Sunday
Photograph: Reuters