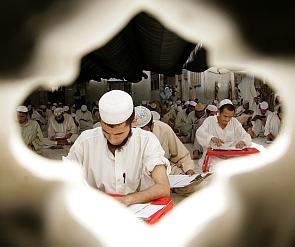 In a rare public admission of Pakistani links to militancy in China's Muslim-majority Xinjiang province, the official media in Beijing said the co-founder of the Al Qaeda linked East Turkestan Islamic Movement was indoctrinated in a madarasa in that country.
State-run China Daily published confessions of Memetuhut Memetrozi, 41, co-founder of ETIM which is fighting for secession of Xinjiang from China. He is serving a life sentence for his involvement in terrorist attacks.
According to a confession statement released by Xinjiang No 1 Prison, Memetuhut was repatriated by Pakistan's intelligence service to China.
Born in southern Xinjiang's Hotan prefecture to a farmer's family, Memetuhut said he travelled around Central Asia pursuing his interest in Islam.
At the end of 1992, he enrolled in an Arab-run school in Pakistan where he came into contact with young religious extremists. The extremists showed him books and videos about religious extremism.
"Such thoughts in his head were like bugs that grew bigger and bigger until they took control of his mind and body," said Memetuhut, who began to promote jihad. He and other young Uygurs who came under the influence of religious extremism travelled to Afghanistan and joined a camp where they were trained to carry out terrorist attacks.
After a year of training, Memetuhut returned to Pakistan and enrolled in an International Islamic University's law department. While trying to get a master's degree in international relations and politics, he continued spreading religious extremism, the report said.
In 1997, Memetuhut met Hasan Mahsum from southern Xinjiang's Kashgar prefecture. Hasan was extremely critical of China's ethnic and religious policies, which made Memetuhut determined to have Xinjiang secede from China.
At the end of 1997, they founded the ETIM and Hasan became its chairman. Hasan was killed in Pakistan in 2003, the report said.
The publication of Memetuhut's confessions by the state-run media highlighting his Pakistani links marks a departure from the past when Chinese government for a over a decade refrained from publicly criticiing its all weather ally over the infiltration of militants into Xinjiang which bordered Pakistan-occupied Kashmir and Afghanistan. But at the same time Chinese officials continue to acknowledge Pakistan's cooperation in cracking down on the ETIM training camps, while privately keeping up pressure on Islamabad to stop the infiltration.
A number of ETIM militants were reported to have been killed in air raids by Pakistan on militant camps in the tribal areas two months ago.
Wednesday's publication of confessions of ETIM co-founder followed reports of discovery of maze of tunnels used by militants in Xinjiang by Chinese satellite. The government however has not revealed the location of the tunnels.
According to recent report by the state-run CCTV, the Chinese military also stepped patrolling along Kunjharub pass connecting Xinjiang's Kashghar city with PoK to intercept militants.
What was earlier perceived to be an ethnic conflict between the native Turkik speaking Uygur Muslims, state to be about 11 million, and Han settlers, the conflict in Xinjiang has become very intense in the last two years with ETIM rapidly expanding its base among Uygur youths.
The Chinese military has launched year long crackdown in Xinjiang and the rest of the country as attacks spilled out to Beijing and other parts.
Memetuhut said the ETIM is particularly effective at recruiting young Uygur men by twisting the Quran's message to achieve a political goal. He said he lost his mind after being sucked in by religious extremism and warned young people to stay away from it and religious extremists who pose as religious leaders.
He no longer wants anything to do with the ETIM, which targets innocent people, including the elderly, children and even members who want to quit, he said, adding that as the co-founder of the group, he wants to apologise to those who were hurt because of the violence unleashed by it.
Image: East Turkestan Islamic Movement co-founder Memetuhut Memetrozi was indoctrinated in a madarasa in Pakistan. Photograph: Representation picture/Reuters