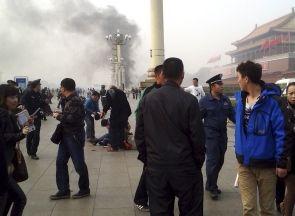 For the first time, China released videos showing how Islamic militants are using the internet to incite terror activities in the country that has witnessed a series of attacks, including one at the iconic Tiananmen Square in Beijing.
These video clips are some of the propaganda materials confiscated from terrorists who planned and launched attacks in China.
The state-run CCTV shown footage of last year's Tiananmen attack in which an SUV with a three member suicide squad comprising of mother, son and daughter-in-law ploughing through rows of tourists before gutted in a fire at the entrance of the iconic Forbidden City.
Five including the three attackers were killed and several others injured in the attack. The SUV also carried the flag of the militant group.
The video shot by the East Turkestan Islamic Movement, a militant outfit waging a war for the liberation of the Muslim Uygur majority Xinjiang province.
It also showed militants hacking people with machetes and other weapons.
This is the first time Chinese authorities released the video which provided a glimpse of the Tiananmen attack amid criticism that fewer details are being released to the media.
Filled with graphic footage of terrorists' training episodes and their terrorist killings, it was released to educate Internet users on the consequences of spreading terror and violent videos, state-run Xinhua news agency reported.
It is also aimed at reminding Internet companies of their responsibilities in the battle against such material, it said.
More than 30 internet firms including Sina, Tencent, Baidu and Taobao signed a letter of commitment to weed out the terror content from their websites, the report said.
As part of efforts to curb the terrorism content in the internet, China's State Internet Information Office has announced rewards to provide tip-offs about online terrorist information and promised rewards of up to 100,000 yuan (USD 16,260) for those who offer important clues.
The SIIO said the amount of audio and video materials put online by the ETIM, has shot up in the past few years.
In 2013, police tracked 109 terror-related audio and video files produced by the movement, compared with 32 in the previous year.
The recordings were matched by a surge in attacks, it said.