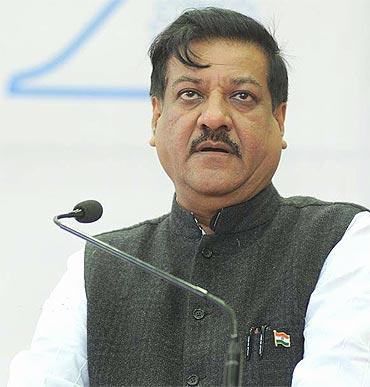 Kerala Chief Minister VS Achuthanandan accused his Maharashtra counterpart of "lying" on the CVC P J Thomas appointment fiasco to "hide his fault".
"Though the Prime Minister Manmohan Singh had owned responsibility for the error of judgment, Chavan is now trying to blame the Kerala government to hide his fault in recommending the name of Thomas for the CVC post," Achuthanandan said in a sharp rejoinder.
Achuthanandan said Chavan, who was former Union Minister of State for Personnel and Training, was "lying" and asserted that the state had apprised the Centre of the palmolein graft case in which Thomas was an accused, when the latter applied for deputation to central services.
The prime minister, in his speech in Parliament, had said that the Department of Personnel and Training, then under Prithviraj Chavan, was responsible for the lapse, he stated. Achuthanandan's reaction came in response to Chavan's claim that the vigilance clearance for Thomas, whose appointment as CVC was struck down by the Supreme Court, was given by Kerala.
"Chavan should have kept the dignity of his post while making such statements," Achuthanandan said.
After the prime minister appeared to blame him for the appointment fiasco, Chavan had sought to point an accusing finger at Kerala government. "DoPT had suggested three names -- two retired officers and one serving--- for the post. One of them was chief secretary in a state to be brought to Delhi. Vigilance clearance is done by the state," Chavan had said yesterday.
Under attack over Thomas' appointment as CVC, the prime minister had told the Rajya Sabha that he was unaware of the corruption case against Thomas and virtually blamed Chavan, saying key information was not provided.