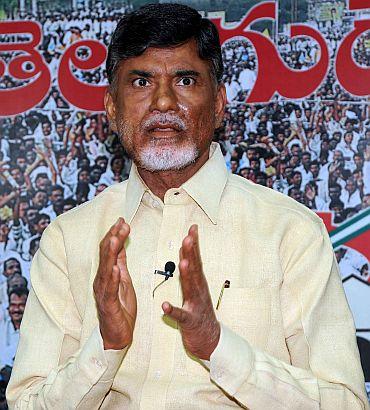 Telugu Desam Party president N Chandrababu Naidu, while supporting the decision of the Congress and the United Progressive Alliance to bifurcate Andhra Pradesh demanded that the Central government should come out with immediate plans to build a new capital for Andhra Pradesh by earmarking Rs 10 lakh crore for the purpose.
"The Center cannot wash its hands off by just announcing the bifurcation of the state. It is responsible for ensuring justice and protecting the rights of the people of all the regions," he said.
He demanded that the new capital city should be developed on the highways to Chennai or Bengaluru at par with the other major cities including Hyderabad.
"Without developing such a city, proper development of that state, generating employment, promoting education and other sectors will not be possible," Naidu said. He was addressing a press conference in Hyderabad a day after the Congress Working Committee passed a resolution in support of formation of Telangana state.
Naidu, who wrote a letter to Prime Minister Manmohan Singh, said that even after the division of the state, the Telugu people should live together in harmony and unity. "The TDP wants development, prosperity and peace for all the Telugu people," he said.
He said apart from the Polavaram irrigation project, the Central government should also give status of national project of Chevella-Pranahita irrigation project of Telangana. Naidu recalled that his party had sent a letter in 2008 supporting Telangana state. "We are committed to that position", he said.