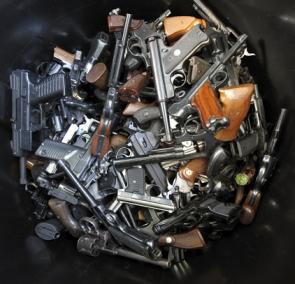 When the Union government had launched the Prime Minister's Rozgar Yojana with much fanfare years ago, they could not have imagined in their wildest nightmares that one day, the welfare scheme will be used by terrorists to carry out their subversive schemes.
The interrogation of Indian Mujahideen chief Yasin Bhatkal and his aide Asadullah Akthar by the Delhi police has revealed that the guns used in the Jama Masjid firing incident were procured from a gunsmith in Bihar, who had set up his shop with financial assistance from the PMRY.
In September 2010, two terrorists on a motorcycle fired at a tourist bus at Jama Masjid, Delhi. Two Taiwanese tourists were injured in the incident.
Bhatkal told police that several gunsmiths in Bihar's Munger district -- who have used the scheme to set up their own businesses -- have started making more sophisticated weapons and selling them illegally to gangsters, politicians' aides, Naxals and even members of terror outfits like the Indian Mujahideen.
A business set up with financial assistance from the PMRY has to provide detailed accounts of its manufactured items. But some such shops have started a flourishing trade by making illegal weapons, alongside the legal ones, say Delhi police. Thanks to the burgeoning demand for such weapons, gunsmiths can sell them at high profits.
Under the PMRY, the gunsmiths get a loan to set up a lathe, a machine which manufactures the various components of a gun. But they are not allowed to assemble the weapon; that can be done only under the supervision of the government authorities.
But some gunsmiths in Munger have started to assemble the guns themselves and sell them, said sources in Delhi police. Whereas the gunsmiths earn anywhere between Rs 2,000 to Rs 5,000 for manufacturing components of a gun, they earn as much as Rs 30,000 by selling an illegal gun.
Investigations into the Jama Masjid firing have revealed that the Indian Mujahideen had planned to set up gun-manufacturing factories in Munger and on the outskirts of Delhi after availing financial help from the PMRY.
Bhatkal told police that if the IM didn't want to endure the hassle of procuring weapons from unknown or unreliable sources.
"We also wanted to sell some of the arms to fund our organisation," Bhatkal reportedly told Delhi police, adding that fellow IM operative Riyaz Bhatkal, who is currently hiding in Pakistan, also approved of the idea.
Bihar police have sprung into action -- albeit a bit belatedly -- and they are carefully checking the credentials of every gunsmith in the state. They have been able to nail 14 illegal dealers who had availed the benefits offered by the PMRY to get their business going.
Bihar police also tipped off their counterparts in Uttar Pradesh and Delhi about a large consignment of illegal guns being smuggled outside the state.
The cache -- comprising 109 illegal weapons -- has since been seized, said the source.
Police have also found that several consignments were being smuggled to Nepal and Bangladesh as well.
"There is a very high demand for such illegal weapons. They are much more reliable than the country-made guns and kattas that are available in the black market," said an official of Delhi police.