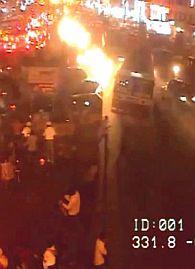 The investigation into the blasts at Dilsukhnagar in Hyderabad on February 21, 2013 that killed 19 people is today a case study about the pathetic state of affairs with regard to handling of terrorism cases in India
A home ministry case report, which will be part of the discussion during the India-US Homeland Security Dialogue on Wednesday, lists the aspects that went wrong before and after the blasts.

In this backdrop also comes the confession of one of the accused in the case, Syed Maqbool who clearly states that they were able to go about their job thanks to political patronage that they enjoyed.

Topping the list of failures is the lack of coordination between the various agencies -- the National Investigation Agency, Organisation for Counter Terrorist Operations and the Criminal Investigation Department.

The report suggests that each of these agencies went about handling the case on their own as a result of which the evidence was not shared. This proved fatal for the case investigation.

Further, the report also goes on to state that VIP visits to the place within two hours of the attack hampered the investigations a great deal, as the police were too busy providing security to them.

There was also a complete failure of standard operating procedure as the crime scene was not secured and minutes after the attack people walked all over the place, destroying crucial evidence.
Also, the reaction time of the agencies has also come under question, which gave the terrorists time to escape.

While the report deals mainly with the failures, the statements by Saeed Maqbool, one of the accused, paint a scarier picture.

His confession, which will be part of the case trial, points to political patronage at Hyderabad that helped them go about their job.

Maqbool, on the instructions of Indian Mujahideen founder Yasin Bhatkal, had surveyed Dilsukhnagar twice before the attack.

They stayed comfortably in Hyderabad's Old City area and often shuttled between that place and Nanded in Maharashtra.

Maqbool says that he was part of a political outfit and did some ground work for them. That's why he never came under scrutiny.
Maqbool's statements have also been confirmed by Bhatkal, who also allegedly spoke at length about the lack of cooperation between the agencies due to political interference.

Bhatkal added that many of his operatives worked as political workers and this was mainly to avoid coming under the scanner.
Admitting to lapses in the probe, an officer from Hyderabad told rediff.com that there were never clear cut instructions regarding who will handle the probe.

'Being part of the local police, it is our job to rush to the spot and collect as much evidence as possible. Waiting for central agencies is not always the best thing to do in a situation that demands urgency. Regarding the sharing of evidence, we hope there is a clear charter that is set in quick time to ensure that the entire process is smooth,' he said.

'With regard to political patronage, we have found that several operatives take shelter under the garb of being political workers. We have warned several leaders, but then the politics overtakes the situation thus dampening the cause,' the officer claimed.

Image: CCTV grab of the first blast at Konark theatre in Dilsukhnagar