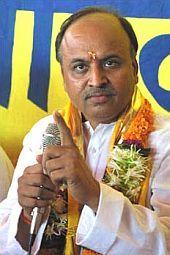 Amidst demand for action against Vishwa Hindu Parishad leader Praveen Togadia for allegedly making provocative speeches, the Centre has asked the Maharashtra government to probe the charges and book the Hindu outfit leader if he is found to be violating laws.
The Union home ministry has asked the Prithviraj Chavan-led Maharashtra government to investigate allegation that Togadia made provocative speeches against the members of a particular community.
"The home ministry's advise is clear. Once they have confirmed forensic evidence, appropriate action as per law must be taken against Togadia," an official said.
The Maharashtra government has assured the Centre at the highest level that they will take due legal process.
Minister of State for Home RPN Singh said if Togadia's speech is inflammatory, the state government must take action against him.
The Congress government in the state has reportedly ordered forensic examination of Togadia's alleged hate speech and is now waiting for a detailed report to be able to register a case against him for "inciting communal hatred".
At a public meeting at Bhokar town in Nanded district of Maharashtra on January 22 -- details of which are now emerging after a video-recording was posted online -- Togadia had allegedly attacked Majlis-e-Ittehadul Muslimeen MLA Akbaruddin Owaisi and members of a particular community.
Owaisi was sent to jail on charges of delivering a hate speech at Nirmal town in Adilabad district of Andhra Pradesh last month.
Demanding swift and stringent action against Togadia, Congress leader Digvijay Singh said no religious leader should be allowed to play with communal accord in the country.
CPI-M politburo member Sitaram Yechury has also demanded action against Togadia.