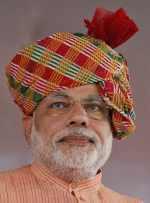 Rashtriya Swayamsevak Sangh chief Mohan Bhagwat on Thursday described Narendra Modi [ Images ] as his "friend" but sidestepped queries on the possible projection of the Gujarat Chief Minister as Bharatiya Janata Party's [ Images ] prime ministerial candidate, saying he was "not a political person".
"He is my friend", said Bhagwat when asked by reporters what he thought of Narendra Modi.
However, when asked whether he supported the demand for projecting the Gujarat chief minister as the prime ministerial candidate, the RSS chief said, "I am not a political person.....I am not here (in Allahabad) on a political visit."
Bhagwat was speaking to mediapersons at the ongoing Maha Kumbh congregation in Allahabad during which he is likely to attend the 'Dharm Sansad' of Sangh Parivar outfit Vishwa Hindu Parishad.
A section of BJP leaders have demanded that Modi be declared as the party's prime ministerial candidate.
VHP leader Ashok Singhal had on Wednesday said the Gujarat CM enjoys the same popularity as Jawaharlal Nehru [ Images ].
However, senior VHP leader Praveen Togadia had on Tuesday ducked queries on the likelihood of VHP pressing for projection of Modi as BJP's prime ministerial candidate.
"I will only say the VHP is committed to helping the Hindus achieve what is their due," he had said when asked about the possibility of VHP pitching for Modi as BJP's prime ministerial candidate.
On Singhal calling Modi 'Hindu Hriday Samrat', he had said, "We are engaged in a collective effort. This is not the time to ponder over personal likes and dislikes."