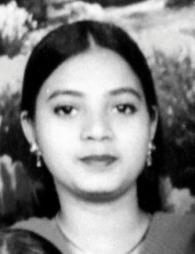 The Central Bureau of Investigation has announced a reward of Rs 5 lakh for anyone providing information on Zishan Johar and Amjad Ali Rana, the two persons who were killed in an encounter along with Ishrat Jahan in June 2004. The CBI is seeking this information to study the antecedents of the duo and find out how they were linked with Ishrat.
Meanwhile, sources in the Intelligence Bureau have material dating back to 2004, which speaks about the plan hatched by ringleader and Lashkar-e-Tayiba commander Muzzamil to eliminate "anti-Muslim" leaders. On the hit-list were late Shiv Sena supermo Bal Thackeray, Vishwa Hindu Parishad's Pravin Tagodia and Ashok Songhal, Bharatiya Janata Party's L K Advani and Narendra Modi.
An IB officer told rediff.com that this information was gathered from taped conversations between Zishan Johar alias Abdul Ghani, and Muzzamil, also an accused in the 26/11 case. "The IB had then warned that the Lashkar was planning major suicide strikes in India. We were looking for female suicide bombers for this mission against the Hindu leaders," he said.
During their conversation, Johar and Muzzamil addressed all targets as macchlis (fish). Johar is addressed as janaab and Rana as yaar. The taped conversation suggests that Johar was a Pakistani national settled in Kashmir, who was assigned to oversee the operation targeting Hindu leaders. He was told clearly by Muzzamil to hire Indian nationals to assist him. "All through the conversation it appears as though Muzzamil is trying to brainwash operatives and repeatedly emphasises on the importance of the mission," the IB officer said.
The next conversation tapped by the IB was between Javed Shaikh alias Pranesh Pillai, also killed in the 2004 encounter, Muzzamil and Johar. Shaikh was instructed to help Johar and make him understand the demographics. Further during the conversation, Muzzamil suggested to Johar in Urdu that a job had been arranged for him in Gujarat. "I have spoken with Javed Shaikh and they have fixed a job for you at a factory in Ahmedabad," Muzzamil told Johar.
Muzzamil further stated that they should stay in touch with Shaikh at all times, since he had been appointed specifically to eliminate the five targets. He would be part of all the operations, but preference would be given to the Macchli 5 (Narendra Modi) project first.
Throughout the conversation Modi's name was never taken. However, Macchli 5 was referred to as a person in Ahmedabad, which led intelligence agencies to believe that it was Modi since the other leaders were not from Gujarat.
This was the exact nature of the input that was passed on by the IB to the Gujarat police who finally carried out the encounter, which the CBI has termed as fake.
However, these intercepts do not have any mention of a woman bomber. There is no mention of Ishrat Jahan either. So what was Ishrat doing with the terror suspects? The question remains unanswered.