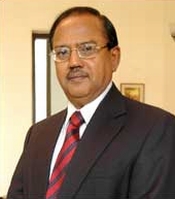 Ajit Doval, former chief of Intelligence Bureau, is a highly respected and decorated sleuth. Doval and his team contributed in a big way in the counter-insurgency operations in Jammu and Kashmir, Mizoram and Punjab.
Currently, as head of Vivekanada International Foundation he continues to contribute to the public debate. In this two-part interview to rediff.com's Sheela Bhatt, Doval furiously argues against any kind of Central Bureau of Investigation action against his former colleague Rajinder Kumar in the Ishrat Jahan fake encounter case of 2004. The CBI's allegation is that Kumar, IB in charge of Gujarat when the Ishrat Jahan encounter took place in Ahmedabad, was actively involved in the extra-judicial killing of Ishrat and three others.
Doval claims that the CBI has a pre-conceived notion that Kumar was actively involved and is 'fixing' evidence to suit its theory.
It seems a kind of education of India is going on. What is happening in the Ishrat Jahan encounter case is educating us on policing and investigation issues. When the CBI is doing its job in this case, why should the IB come in its way? The matter is as simple as that. Why is the CBI not allowed to do its job without any pressure from outside?
You are very correct. I agree the law of the land should be upheld by everyone. The CBI is supposed to be the investigative agency which has got credibility to collect the right facts and then come to conclusion on basis of those facts. But when the CBI works in a way that raises the suspicion that, probably, it has got a pre-conceived conclusion and now it is collecting evidence in support of that conclusion, then that raises doubt.
Any evidence that comes contrary to that is brushed aside as inconsequential. Very remote and non-corroborative evidence is accepted by them. It is worse when reports start percolating that some people are being given inducement, threats to make certain statements which they cannot corroborate on basis of any material evidence.
How do you know that the CBI has a pre-conceived notion? How do you know that statements have come after some inducement? You are well-respected former intelligence officer but you are retired now. How do you know the details?
I am not only talking about the CBI, I am talking about the entire system. This incident happened in 2004. No cognisance was taken for years. In 2009, they appointed a Special Investigative Team which was lead by Karnail Singh, a respected officer who has tremendous amount of professional competence. Within a short time he resigned. Why did he resign? Did anyone go into the depth of it?
It was not a voluntary work. If he decided not to work means there must be something out of the ordinary. Then, they appointed a second man who too refused to do the work. And, then they appointed third man who (Gujarat IPS officer Satish Verma) doesn't know about terrorism. Who has a son-in-law who is involved in some trouble, who appears to me to be vulnerable. Verma has perpetual enmity with Rajinder Kumar, the IB officer being implicated. There is conflict of interest. Even if he is very good you don't put that man as an investigative officer in the SIT.
If one is confident, one should let the truth prevail. And insist that the truth must prevail. Let Rajinder Kumar get arrested if the CBI wants. Allow this case to go to its logical conclusion.
Satish Verma is not even a CBI officer. He was outsourced by the CBI. There should be a CBI investigation. The CBI officers should do the investigation and the director of the CBI should supervise it.
But it is CBI which has conducted the investigation. Some 19 statements have been made before a magistrate and not the CBI or Satish Verma.
These things will be examined by the court. I don't know the facts of the case. My take is that an officer who is appointed for the investigation and entrusted the job should not have any conflict of interest. He should have competence. He should not have a background that makes him unsuitable to take up the job.
The impression should not be created that the investigation is not fair, objective and correct. In this case it gives the impression, on basis of some letters that have been exchanged, that there was some amount of personal rivalry.
I don't know what it was but a serious rivalry existed between Verma and Rajinder Kumar. It's officially known and there are letters exchanged about it. Even formal complaints have been made.
Can you explain me the command and control system of the IB in a federal structure? Was Rajinder Kumar supposed to Chief Minister Narendra Modi's office regularly?
The IB operates in all states. It's a central body. The outstation officers report to people in the headquarters. They do not report to anyone in the state governments. The IB officers co-ordinate terrorism and such issues with the state governments. They give information and provide the state police if any help is needed. It's a part of an IB officer's duty to call on the chief minister, governor and concerned ministers and appraise them about the security situation.
What we call SIB (Subsidiary Intelligence Bureau) appraises the state of everything. They sensitise state governments on security matters. This is the regular practice. The SIB chief discusses everything with the state government.
Is Rajinder Kumar's perceived closeness with the government in Gandhinagar not awkward?
I don't know if Rajinder Kumar was close or not. He has to remain in close touch with the chief minister, governor, chief secretary, police chief and others. He has to update them. Or else he could be very well be in New Delhi. The chief of SIB is posted there in state capitals because he has to be in touch with them. This is the first time, I am hearing about Rajinder Kumar's proximity with the CM (Narendra Modi).
I had been SIB chief in many difficult states of India like Kashmir, Sikkim and Mizoram. I was close to the chief ministers of those states. I used to call Dr Farooq Abdullah and ask for his appointment. Even if he was busy he always accommodated me. Calling on the chief minister was a part of my official duty. If we think the state CM has to know something urgently we can always get their audience. Nothing wrong in it.
It is said that alleged fake encounter of Ishrat Jahan and others was a joint venture between the Gujarat police and the IB, which was then led by Rajinder Kumar in the state.
I don't know the facts of the case. But what is a joint venture? The IB got certain information. It provided that intelligence, right or wrong but to best of their knowledge, to the state police. The physical power to act is with the state police. Legal and administrative power to act upon intelligence is with state only. Then where is the case of a joint venture? The state police is not dependent on the IB for anything.
Then why did they provide the weapons?
That's the allegation. I don't know the truth.
One of the senior CBI officers told me that the IB has been shown the evidence against Rajinder Kumar. There is plenty of it.
But this is not what the IB believes in. The bigger legal issue is this. All investigations done by the CBI must be objective and fair. The system must be followed. There is lot of circumstantial evidence in this particular case. Here you are establishing that one person is innocent by making him prosecution witness. Some other person is made accused because his statement is not going to stand in a court of law; some other is acquitted because he is ready to give a statement.
You have arrived at the conclusion and are working backwards to prove it -- whom to implicate and whom not to implicate. The CBI is a first rate professional organisation. It has many, many good professionals and when it is allowed to do so they have done a great job. It is possible that if given free hand they may come to the same conclusion as they have done today. I will take it with respect. But, there is a perception in the country that credibility of the organisation and investigation is very much doubtful. It looks like they have arrived at conclusion before investigation.
If it is so then let the courts decide. Let us go ahead with the so-called dubious plot of the CBI and move to court, which can very well settle the issue.
It is not as simple as that. If you fabricate evidence and put words in mouth of somebody and implicate someone it has an impact on somebody. It impacts the individual and the organisation. In this case it has implications for national security. The way the CBI and the IB are pitted against each other, it is quite serious for national security.
In the second part, Doval argues further why IB officer Rajinder Kumar should never be implicated.