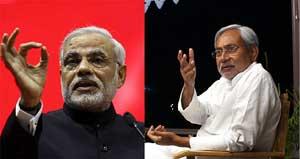 Senior Bharatiya Janata Party leader M Venkaiah Naidu on Thursday asked the Janata Dal - United to follow 'coalition dharma' after some of its leaders allegedly criticised Gujarat Chief Minister Narendra Modi, widening the rift between the two parties.
Speaking to reporters, Naidu said, "Some friends in JD-U are making derogatory remarks against Modi which will neither help you (JD-U) nor the country."
"Please follow the coalition dharma," he said without taking any names.
JD-U is the second largest constituent of the BJP-led National Democratic Alliance and has strong reservations about Modi.
Party leaders have time and again expressed their antipathy to Modi. Bihar Chief Minister Nitish Kumar has been the most vocal among them.
Kumar had even given a deadline till December this year to the BJP to declare its prime ministerial candidate, saying the candidate should be a leader who is acceptable to all allies. He also said that the JD-U will soon publicly state its stand on the Gujarat CM.
Referring to talks about the formation of a Third Front or a Federal Front, Naidu said it was a "failed experiment".
Alleging that the United Progressive Alliance government had lost the right to rule, Naidu said the BJP-led NDA was the only alternative to the defunct UPA because the party had a credible record of good governance and development in the states ruled by it.
He warned that the people wanted to "liberate" the country from the Congress' rule and they would not forgive any party which tries to weaken this resolve or help the Congress.