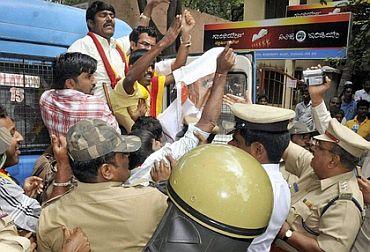 Protests over the Cauvery water dispute gained momentum on Friday with Kannada outfits planning several high-voltage rallies in Bengaluru even as the state government briefed a central team on the water storage levels in reservoirs.

Former Chief Minister B S Yeddyurappa is scheduled to begin a day-long dharna against the Prime Minister-chaired Cauvery River Authority's order to Karnataka to release 9,000 cusecs of Cauvery water to Tamil Nadu daily.

The state government on Fridays morning briefed a central team that has arrived to assess the ground realities.

Chief Secretary S V Ranganath and senior officials of Water Resources and Agriculture Ministries explained to the four-member team on the water storage levels in reservoirs in the backdrop of deficient rainfall and drinking water requirements of Bengaluru.

The four-member team later left for Mysore to study the situation in the Cauvery basin. They are slated to visit Krishna Raja Sagara dam and Hemavathi river besides aerial suvey of Kabini and Harangi rivers.

Karnataka Rakshna Vedike is holding a procession from national college grounds to Freedom Park.

The Janata Dal is also organising a separate procession in the city to protest the CRA ruling.

The protests, largely confined to Cauvery basin districts so far, are likely to lead to traffic snarls in parts of Bengaluru on Friday, police warned.