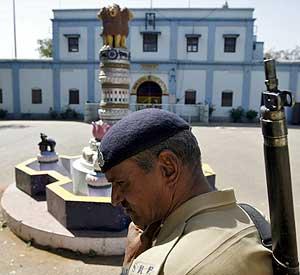 The last couple of months have been eventful ones for India's law-enforcement agencies, with three high-profile suspects escaping from custody in the last 40 days.
Afzal Usmani, an operative of the Indian Mujahideen, escaped from the custody of the Anti-Terrorism Squad while he was being produced before the court on September 20. He was arrested again after a couple of days. He told police that the escape was not planned beforehand.
On October 1, six alleged operatives of the Students Islamic Movement of India escaped from a jail in Khandwa, Madhya Pradesh. These men have not yet been arrested.
Patna blasts' suspect Meher-e-Alam escaped from a 'safe house' near the Muzzafarpur railway station in Bihar on October 31. He was subsequently arrested from Kanpur.
The attempted jail break from the Sabarmati prison in Ahmedabad can also be mentioned here, though the daring attempt was foiled by jail officials.
Security experts believe that though these incidents are not necessarily linked to one another, there may be a discernible pattern behind them.
A former police officer, who did not want to be named, told Rediff.com that some officers usually let the suspect slip out only to re-arrest him in order to make a stronger case.
"Without casting any motive or aspersion on the above mentioned incidents, I would like to say that there could be something behind them or nothing at all," he said.
The above mentioned cases did not involve ordinary criminals; they involved deadly terrorists who should ideally have had an impregnable security shield around them.
"When the accused escapes, he helps the police make a very strong case when the actual case is weak. Even the courts view this seriously. Even if the primary case results in an acquittal, the person ends up getting jailed for escaping custody," said the official.
With terror control rooms based in Pakistan and foot soldiers sneaking in from Bangladesh, it has become extremely difficult to put together a case against terror operatives.
The agencies primarily rely on the confessional statement, which is invariably retracted by the accused in court.
Image: A security personnel stands guard outside the Sabarmati central jail ' Photograph: Amit Dave/Reuters