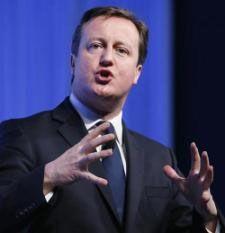 British Prime Minister David Cameron on Thursday said he will demand that Sri Lankan government independently and transparently investigate alleged war crimes and allegations of continuing human rights abuses in the country.
Defended his decision to attend the Commonwealth leaders' summit in Colombo next week despite calls by human rights groups and Tamil community to boycott the meeting, Cameron said, "The right thing to do is to engage".
Writing in the Tamil Guardian, Cameron noted that four years after the conflict no one has been held to account for grave allegations of war crimes and sexual violence, journalists are routinely intimidated and thousands of people have yet to find out what has happened to their missing relatives.
"I want to see that change. And I do not believe boycotting the Commonwealth meeting will achieve that," he said.
"To visit the country. To shine the international spotlight on the lack of progress in the country. And to have frank conversations with the Sri Lankan government about what they must do to address the concerns of the international community and to improve the daily life of thousands of Tamils and civilians across all communities," he added.
He said he will visit the northern province -- the first leader to do so since Sri Lankan independence in 1948 -- to see the situation on the ground with his own eyes and meet people directly affected by the conflict.
"Recent progress on elections, reconstruction, demining and resettlement of those displaced by the conflict is important but it is frankly not enough," he said.
"I will demand that the Sri Lankan government independently and transparently investigates alleged war crimes and allegations of continuing human rights abuses; guarantees freedom of expression; and stamps out intimidation of journalists and human rights defenders -- including by bringing those responsible to justice," Cameron said.
"This will not be an easy conversation. But diplomacy is not about ducking the difficult discussions. It is about talking to those that you may not agree with precisely because you want to change their approach," he said.
"... attending the summit is not a betrayal of Britain's values or the Tamil people, it is the way we champion them," Cameron said.
"We want the Commonwealth to take action on the things that matter to the UK and we will not achieve that by sitting on the sidelines," he said.
Image: British Prime Minister David Cameron