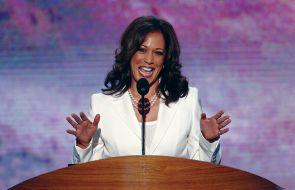 California Attorney General Kamala D Harris announced on February 12 that she would be seeking re-election to the post.
Harris, a Democrat, who has over $3 million to fight the election, filed her nomination papers at the San Francisco City Hall.
The last date for filing the nomination is March 7. The primary election for the attorney general is June 3.
Harris took office as California's 32nd Attorney General on January 3, 2011, making her the first woman to hold the job.
'It has been an honour to be able to fight for the people of California for the past four years. We've taken on some powerful interests and we have gotten results,' she said. 'That is why I began the process to officially run for re-election as your Attorney General.'
She added that her team had 'consistently fought for Californians against criminals that would perpetrate violence or fraud against our communities. We've taken on the Wall Street banks and forced them to pay $18 billion as part of the National Mortgage Settlement and fought for the nation's most comprehensive package of foreclosure reforms -- the California Homeowner Bill of Rights -- and saw it signed into law.'
Kiran Jain, former president, South Asian Bar Association and Senior Deputy City Attorney, Oakland, and a long time supporter of Harris, told India Abroad, "As the chief advocate for California, the Attorney General has accomplished a great deal in her first term."
Shefali Razdan Duggal, another Harris supporter and a member of the Democratic National Committee's National Finance Committee recalled her first meeting with Harris in 2004. "Since that moment, I became dedicated and devoted to the hopes, dreams and aspirations of Kamala Harris," she said.
"Kamala is where she is today because she has worked towards the betterment of the people of California," Duggal added.
Harris began her career in the Alameda County District Attorney's Office, where she specialised in prosecuting child sexual assault cases.
In 1998, she joined the San Francisco District Attorney's Office, where she led the Career Criminal Unit. She also served as the head of the San Francisco City Attorney's Division on Children and Families.
Image: California Attorney General Kamala D Harris