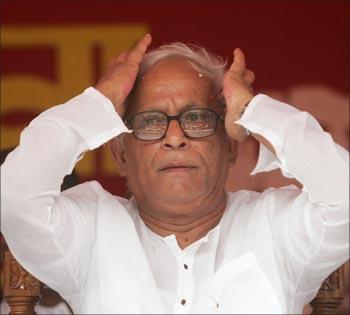 Former West Bengal chief minister Buddhadeb Bhattacharjee on Wednesday justified the police firing on Youth Congress workers, killing 13 people on July 21, 1993 during the Left Front rule and asserted that he had never felt the need for a judicial inquiry into it.
"In the name of march to Writers, it was an attempt to capture Writers Buildings (state secretariat). Given the situation, the police had to resort to firing," Bhattacharjee told a Judicial Commission inquiring into the police firing which created a huge political controversy.
Bhattacharjee, who was then the Information and Cultural Affairs Minister in the Jyoti Basu Cabinet, said, "At that time, in principle I did not feel the need for judicial inquiry and I still stick to my views."
Bhattacharjee deposed for nearly 50 minutes before the one-man commission of Justice (retired) Sushanto Chattopadhyay, a former Chief Justice of the Orissa high court. Mamata Banerjee, who was then Youth Congress president in West Bengal, had called for a march to Writers Buildings demanding voter photo-ID cards to be made mandatory for free and fair polling.
The police had fired on the protestors on Mayo Road and Dorina Crossing at Esplanade, about a kilometre away from Writers Buildings, killing 13 people and injuring several others. "The programme was absolutely without any sense of responsibility and to capture Writers Buildings. There was large-scale violence and around 70 policemen were injured," Bhattacharjee claimed.
At this, Justice Chattopadhyay said that no record had been found of any policeman having been admitted to any hospital on that fateful day in connection with the incidents.
Seeking to justify the firing, Bhattacharjee said that it depended on the situation and assessment by the law enforcing authorities as to what action was necessary to contain it, adding that "on that day the police had to resort to firing in order to control the situation."
Bhattacharjee, at present a Communist party of India-Marxist politburo member, also claimed to have learnt inside reports of Congress, which, he said, had felt that the movement was not right.
"We had discussed with Congress leaders. Various Congress leaders also did not like the way the movement was conducted," he said.
When the commission told him that leaders of other Left Front partners had deposed before it that they had wanted a judicial probe into the incident, Bhattacharjee said, "Our
partners might have said they preferred a judicial commission, but they stated their views and I have stated mine."
Bhattacharjee in his apologia said, "The necessity of judicial inquiry depends on many factors, including the government's views, media, perception of common people and other aspects. In this case, we did not feel the necessity."
The veteran Marxist leader agreed to the commission's reference that it was a pre-announced political programme, but asserted that the intention of the agitators was to resort to violence and capture the state secretariat.
He said that as it was his duty to brief the media as the then information and cultural affairs minister, he had got a copy of the report submitted by the then Kolkata police commissioner to the home secretary, who had placed it before Chief Minister Jyoti Basu.
Bhattacharjee said that though he had seen the preliminary report submitted a day after the incident, he did not remember seeing the statutory inquiry report, which is generally submitted after a few months of an incident of police firing.
Justice Chattopadhyay told him that authorities at Lalbazar (Kolkata Police headquarter) and Writers Buildings had given to him in writing that no inquiry report had been found and that, in fact, no papers relating to the incident could be located.
At this, Bhattacharjee said, "It is unfortunate that such a report went missing."
He told Justice Chattopadhyay that a commission should be set up by the government on proper upkeep of records and prevent these from going missing.
Asked whether the police should fire on innocent people in democratic movements, he told Justice Chattopadhyay, "There is a difference between a democratic movement and a pseudo-democratic movement."
Told that none of those killed were anti-socials and were instead "innocent politically-aware people", Bhattacharjee said, "There may have been innocent pedestrians and every death is unfortunate."