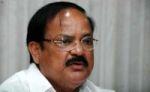 Former Bharatiya Janata Party President M Venkaiah Naidu on Monday said his party would bring an anti-conversion law if it comes to power at the Centre.
Addressing a gathering in Visakhapatnam, he said BJP is totally opposed to conversions and the country would only be safe when Hindus are in a majority.
Claiming that BJP is the only national party in the country to protect the welfare of all sections of people, he charged the UPA government at the Centre and the Congress government in Andhra Pradesh had totally neglected the welfare of the poor and downtrodden.
Naidu alleged people had lost faith in Congress governments as BJP-ruled states like Madhya Pradesh, Gujarat, Chhattisgarh and others did well, with all people including minorities, in these states leading a comfortable life.
He said BJP would take stern action against terrorism and cancel the autonomous status to Jammu and Kashmir if it came to power after the next general elections.
He said people wanted BJP rule at the Centre as they experienced development during NDA rule headed by Atal Behari Vajpayee.
People are tired of UPA govenrment's "anti-people, anti-worker and anti-farmer" policies and Prime Minister Manmohan Singh had totally failed to control rising prices of all commodities, Naidu charged.
The UPA government had neglected the common man and protected the corporate sector's interests, Naidu alleged and added the government gave concessions worth Rs 31 lakh crores to corporate houses, placing a burden on the common man worth Rs 2 lakh crore, by increasing prices of diesel, fertilizers, gas and other commodities.
He claimed BJP's agenda is good governance, development and security and the party would announce its prime ministerial candidate for the 2014 election after a few more national level meetings.
People wanted Gujarat Chief Minister Narendra Modi as the next prime minister due to his excellent track record of the development in all sectors, he said.
He said BJP is the only alternative to Congress as regional parties and the Third Front would not be in a position to rule the country.
Due to lack of foresight by Congress government, people face several problems and the state faces a power crisis since power generation had totally stopped, he charged.
BJP ruled states like Gujarat, Madhya Pradesh and Chattisgarh have no power cuts and provide sufficient power to farmers and industries, he said.
He said though Andhra Pradesh had sufficient natural resources like gas and coal, the Congress government has "failed" to generate enough power in the state.
Agricultural and industrial sectors were completely ruined due to lack of power and farmers commit suicides as they are in neck deep debt, he charged.
The Congress government in the state had failed to provide even three hours of power to the farm sector, he said.