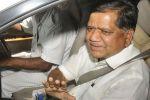 Jagadish Shettar will be the BJP's chief ministerial candidate in the Karnataka Assembly polls, Rajnath Singh said on Monday, even as he downplayed the issue of corruption that has plagued the party-led government in the southern state.
Singh, who was addressing a Bengaluru rally through video conferencing after his aircraft developed some snag and he had to return mid-way, also announced that BJP leaders L K Advani and Narendra Modi will be the party's star campaigners in Karnataka.
The BJP president, along with senior leaders Sushma Swaraj and Arun Jaitley, was to visit Bengaluru to kick-start the party's election campaign.
Addressing the rally, Singh admitted that his party faced "adverse" situation after removing B S Yeddyurappa as chief minister over allegations of corruption, but said his party would not spare anyone indulging in corruption.
"We had to face some adverse situation in Karanataka ... It would have been good if there was no allegation against B S Yeddyurappa. We wish we had one chief minister for five years," Singh said.
"I want to assure the people of Karnataka that anyone indulging in corruption will not remain in his chair in the BJP," he said.
Singh listed interest-free loans to farmers, devolution of power by empowering panchayats, rural drinking water schemes, infrastructure development and introduction of bus service in Bengaluru that won several awards, besides laying the foundation of Metro rail in Bengaluru as achievements of the BJP government in Karnataka.
"In five years, the government's performance was satisfactory. I am confident that the BJP will get a clear majority in Karnataka," Singh said.
To a question on possible tie-up with Yeddyurappa's party, Singh said "there was no question of it".
The BJP president rejected suggestions that support for his party had weakened in the state following the exit of Yeddyurappa. "BJP is not a party run by individuals. It is run by team spirit," he said.
He said Shettar did not get enough time to work for the welfare of the people of the state, but performed well in the limited time he had.
Singh claimed that Karnataka was among the "best performing" states which had BJP government, including Gujarat and Madhya Pradesh.
He hit out at the Congress for failing to bring India in the top league of nations in the world despite being in power for 53 years.