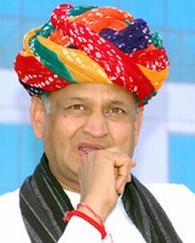 Ashok Gehlot, the otherwise soft-spoken chief minister of Rajasthan, has lashed out at the Bharatiya Janata Party over its decision to nominate Gujarat Chief Minister Narendra Modi as the party's prime ministerial candidate.
Gehlot claimed the BJP has lost its political relevance by agreeing to Modi's anointment at the behest of the Rashtriya Swayamsevak Sangh.
Speaking to reporters at Jodhpur, the Rajasthan CM stated that Modi's elevation will pose a challenge for the BJP itself, not for other parties.
"I think the BJP should wind up. I also think the RSS should declare that in the future, it will conduct the political activities of the BJP. The way Narendra Modi has been anointed, there is nothing left to say," said Gehlot.
He added, "The way the RSS forced its decision on the BJP shows that the political relevance of the party has come to an end. Now, the BJP is nothing but a mask for the RSS. We had been hinting at this since a long time. The RSS can take matters in their own hands and face us. The Congress is capable as it has a principle, policy and programme and it has kept the country united for 65 years."
Gehlot expressed the belief that the BJP and the RSS would have to pay the price for projecting Modi as the PM candidate.
"Secular forces which respect the diversity of the country will counter it," he stressed.
Incidentally, Modi had visited the desert state a few days ago to kick-start the campaign for the forthcoming assembly polls, for party leader Vasundhara Raje.