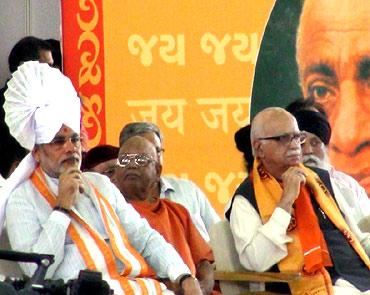 The cold vibes between Narendra Modi and L K Advani, who has been unhappy over his nomination as the Bharatiya Janata Party prime ministerial candidate, were visible when the two leaders ran into each other at a party to celebrate Ram Jethmalani's 90th birthday in New Delhi on Sunday night.
Modi bent down before Advani in a sign of respect and then took his seat close by with Jethmalani in the middle. Advani and Modi exchanged pleasantries but hardly talked to each other.
Advani, who was against the party naming Modi as its PM candidate before the upcoming assembly polls to five states, had stayed away from the crucial BJP parliamentary board meeting on Friday when the decision was announced.
The same day Advani shot off a letter to Singh expressing anguish and disappointment over the BJP president's style of functioning. After his anointment, Modi had driven to Advani's residence to seek his blessings.