State Bank of India is number one in many aspects but when it comes to business and profits per employee, the country's largest lender ranks below the national average, says a Reserve Bank report.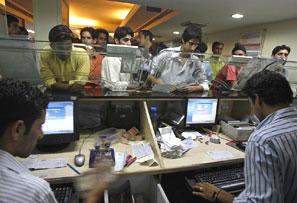 As per the latest data on Indian banking sector, the business per employee of SBI in 2012-13 was Rs 9.43 crore (Rs 94.3 million), while the all banks' aggregate was Rs 12.13 crore (Rs 121.3 million).

Every employee on an average contributed Rs 650,000 to the bank's profit in the last fiscal, according to 'A Profile of Banks: 2012-13', released by RBI.

On this parameter also, the bank was lagging behind the all banks' aggregate which was Rs 8.3 lakh.
SBI's employees strength was 228,000 at the end of March 2013.

With regard to net non-performing ratio (NPA),
SBI performed poorly. Net NPA of the bank stood at 2.10% of the total advances as compared all banks' aggregate of 1.68 per cent in 2012-13.
However, on the parameter of net interest margin (NIM), SBI's interest spread was better at 3.06% as against the all banks' aggregate of 2.79 per cent.
The net profit of SBI was 20 per cent up at Rs 14,105 crore (Rs 141.05 billion) in the last fiscal.
The standalone profit of the bank for 2012-13 made it the third highest profit making firm in the country after ONGC and Reliance Industries.
Standalone total income of the bank in 2012-13 increased to Rs 1,35,691.94 crore (Rs 1,356.92 billion), from Rs 1,20,872.90 crore (Rs 1208.73 billion) in 2011-12.
The consolidated net profit of the bank and its five associates stood at Rs 17,916 crore (Rs 179.16 billion) in 2012-13.