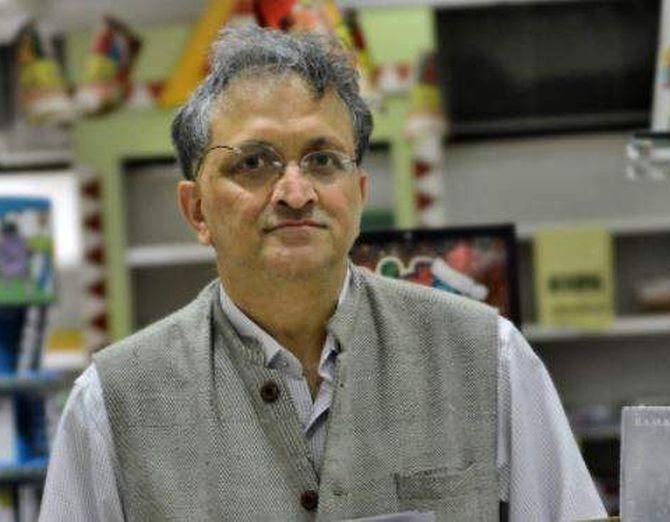 The Bharatiya Janata Party Yuva Morcha on Monday slapped a legal notice on noted historian Ramachandra Guha seeking an 'unconditional apology' for linking the Sangh Parivar with the killing of senior journalist Gauri Lankesh, or face civil and criminal prosecution.
The notice said Guha made the 'utterances' intentionally to bring disrepute to the Rashtriya Swayamsevak Sangh and the BJP with an 'ulterior motive' and the 'direct allegations, insinuations and innuendos' impute criminal conduct.
It also said Guha had made similar statements in an article.
Guha's remarks had come in the context of the unfortunate killing of Gauri Lankesh in Bengaluru on September 5, it said.
The notice has been issued by Haranahalli Law Partners on behalf of State BJP Yuva morcha Secretary Karunakar Khasale.
Guha's comments were not immediately available. Noting that investigations were still ongoing in the deaths of rationalists Narendra Dhabolkar, Govind Pansare, M M Kalburgi and Gauri Lankesh, the notice also said no trial had taken place against any person, much less any conviction.
'Under such circumstances, without any basis or proof, you have given false and mischievous statements clearly calculated to defame our Client's organisation and its members,' the notice says.
The 'baseless utterances' were also calculated to influence and mislead the ongoing investigations into the incidents, which amounts to illegal interference in the course of justice and was a grave offence, it said.
The notice demands Guha to categorically issue an unconditional apology within three days from the date of its receipt and to refrain from making any similar or identical statements or allegations.
It said if Guha failed to comply with the 'instructions', civil and criminal prosecution would be initiated against him.
Guha responded to the notice through a series tweets.
'In India today, independent writers and journalists are harassed, persecuted, and even killed. But we shall not be silenced.'
He also tweeted, 'Atal Bihari Vajpayee said the answer to a book or article can only be another book or article. But we no longer live in Vajpayee's India.'
Lankesh was gunned down by unidentified assailants at her residence here on Septmber 5, with no clues on the incident so far.
The Karnataka government has formed a Special Investigation Team to probe the coldblooded killing that has caused national outrage and protests.