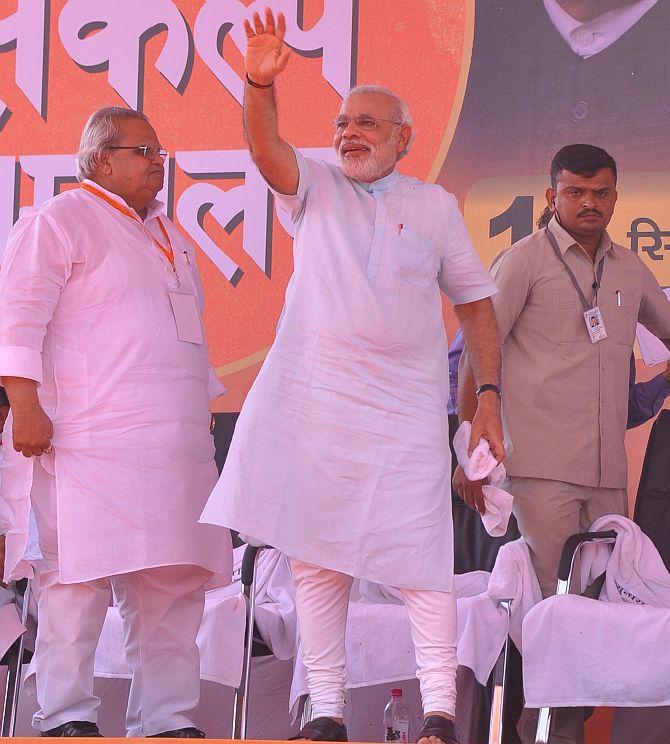 It is literally a fight for the chair among Bharatiya Janata Party leaders in Agra as they bid as high as Rs 1.25 lakh for the piece of furniture on which BJP's prime ministerial candidate Narendra Modi sat during a recent public meeting in Agra.
BJP Member of Parliament Jagan Prasad Garg has so far made the highest bid of Rs 1.25 lakh, according to party sources, while others are not far behind with MLA Yogendra Upadhyaya and Ramshankar Katheria, Member of Parliament from Agra, also making bids over Rs 1 lakh.
However, BJP corporater Pramod Upadhyaya who provided the furniture during the rally has now refused to part with the chair also, the sources said.
The entire affair of BJP leaders making a bid to buy the chair started after a party worker asked the contractor to sell him some of the chairs used in the function.
On being refused, the worker offered to pay Rs 2,000 for the particular chair on which the Gujarat's chief minister had sat on during his 'Vijay Shankhnad' rally in Agra. The incident influenced other party functionaries as well to quote high prices for the chair.
Mr Modi had on November 21 addressed a large gathering of supporters at Kothi Meena Bazar ground in Agra.