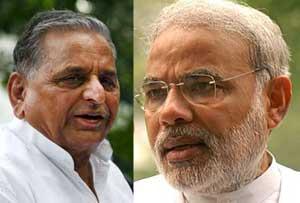 Bharatiya Janata Party's prime ministerial candidate Narendra Modi and Samajwadi Party supremo Mulayam Singh Yadav are all set to put up a show of strength by holding rallies in Agra and Bareilly respectively on the same day.

The event, to be held on Thursday, is being seen as some kind of a face-off between the two sworn political rivals.
Though Modi seems to be keeping aside his hardcore Hindutva leader image and presenting himself as more of a statesmen, the SP veteran continues to label him as a "rabid communal force".

Both Agra and Bareilly have a substantial population of Muslims who form the main vote-bank for the Samajwadi Party.
Mulayam is expected to leave no stone unturned to woo the minority community, whose support had propelled the SP to power in the Uttar Pradesh elections held in March 2012.

While the Agra rally would be the fourth one to be addressed by Modi in the last one month in UP, Mulayam's show in Bareilly will be his third consecutive one.
Modi's recent rallies in Kanpur, Jhansi and Bahraich have attracted a large number of people and so have Mulayam's rallies in Azamgarh and Mainpuri.

Leaders of both parties are keeping their fingers crossed over the rallies in Agra and Bareilly; they are refusing to draw parallels between the two.
"It is a sheer coincidence that the BJP and SP are holding rallies on the same day at different places in the state; it makes no sense to compare the two," remarked state BJP president Laxmi Kant Bajpai.
He added, "The Agra rally will witness a record attendance."

While Samajwadi Party spokesman Rajendra Chaudhary also refused to compare the two rallies, he declared , "Our rally in Bareilly will draw a crowd of at least five lakh people."