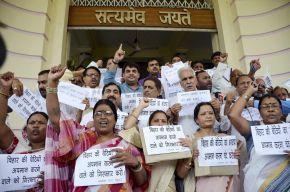 Following the Janata Dal-United, Rashtriya Janata Dal and the Congress protesting against Haryana Bharatiya Janata Party leader O P Dhankhar's controversial remark 'Bihari bride for Haryana boys', Bihar Chief Minister Jitan Ram Majhi has said that Dhankhar should tender an apology to the women of the state.
"Dhankhar must tender an apology to women and girls of Bihar for his amaryadit – language that insulted and hurt people," Manjhi said.

The CM said that the leader should avoid using such language and not insult other people. "I am surprised that some BJP leaders are defending Dhankhar and termed it as a non-issue," the Bihar CM added.

Earlier in the day, leaders from JD-U, RJD and Congress protested inside the state assembly, forcing the speaker to adjourn the session.

Dhankhar, who is BJP Kisan Morcha (farmers' cell) president, had reportedly on Saturday made a controversial remark while addressing a party workers meeting in Haryana that if his party was voted to power in the state polls, he would get girls from Bihar to ensure men in Haryana get married. He had further said that former Bihar deputy chief minister Sushil Kumar Modi was his close friend and he would extend help.
Image: JD-U members stage a protest outside Bihar's leglislative assembly. Photograph: PTI