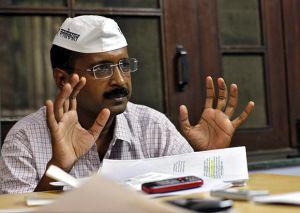 The Bharatiya Janata Party, which emerged as the single largest party in Delhi assembly polls but fell short of a majority, on Thursday declined to form a government, strengthening the likelihood of fresh elections in the national capital.
Meanwhile, Lt Governor Najeeb Jung has invited Aam Aadmi Party chief Arvind Kejriwal, whose party with 28 members of Legislative Assembly is the second largest, for discussions on government formation on Saturday. Like the BJP, the AAP is also expected to decline the offer, citing lack of mandate.
After a meeting with Jung who invited him to discuss government formation, party's chief ministerial nominee Harsh Vardhan said the BJP would like to sit in the opposition in view of the lack of clear mandate by people of Delhi.
"With the BJP emerging as the single largest party in Delhi polls, the lt governor invited me to discuss government formation. We have conveyed to him that we do not have enough seats and in view of lack of clear mandate, the party would like to sit in the opposition," Vardhan told reporters.
The BJP, along with its ally Akali Dal's one seat, has 32 MLAs in the 70-member House while the AAP has 28 seats followed by Congress' eight. JD-U won one seat while the Mundka seat went to an Independent.
Vardhan said if any other party was interested in forming a government they are welcome but remained non-committal whether BJP would support such a formation.
Asked if their move was pushing the national capital towards fresh elections, he said his party cannot be held responsible for the consequences of the fractured mandate.
AAP leader Manish Sisodia told PTI that Kejriwal received a call from the LG office in the evening for discussion on government formation. He said the party's stand remained the same and it would not form the government.
There have been suggestions that AAP, which made an electrifying debut and emerged as the second largest party, should form government with outside support of either BJP or the Congress, a view rejected outright by the debutant party.
AAP chief Arvind Kejriwal had yesterday made it clear that his party would prefer fresh election than forming a government with support from the Congress or the BJP.