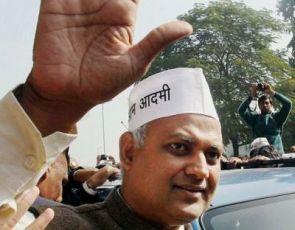 High drama was witnessed on Friday at the Delhi Commission of Women as controversial Law Minister Somnath Bharti on Friday failed to appear before it in the case relating to the midnight raid against an alleged drug and prostitution ring and instead attended a kite flying festival.
Bharti's lawyers and the Commission Chief Barkha Singh, a former Congress MLA, had a public confrontation after she refused to allow them to present the minister's response.
In a statement, Aam Aadmi Party said it "strongly disapproved of the politicisation of the office of Delhi Commission for Women by its chairperson".
Claiming that a lawyer had misbehaved with her, Singh said she has written to the Lt Governor recommending filing of an FIR against Bharti for allegedly misbehaving with a number of African women.
DCW had summoned Bharti following allegations that the Delhi minister led a group of AAP workers who misbehaved with a number of African women on the pretext of a raid on an alleged drug and prostitution ring in South Delhi last week.
The law minister was asked to depose before the commission this afternoon to explain the charges against him but he sent his lawyers, who said he was absent due to "some urgencies".
"There is no provision by which we can allow representatives or lawyers. Bharti's lawyer who had come here today misbehaved with us. The lawyer misbehaved with me," Singh said. The Commission had called two Ugandan women involved in the case to the Commission.
One of Bharti's lawyers Rishikesh Kumar said Singh did not allow them to put across his point on the issue.
"I have been asked by Somnath Bharti to represent him in today's proceeding. I came here at 3 pm and as I entered inside I saw many camerapersons were already present there. So I said that it's already 3 o'clock and we have been sent by Bharti to represent him," he said
"We were told lawyers cannot represent. I said I have got the instructions. I have got the authorisation and can you please let me speak? Then she said no, you are a lawyer. But I kept saying that we have a humble submission. I told her that because of some urgencies Bharti might not be able to attend today's hearing," Kumar said.
The AAP had on Thursday decided to back Bharti and to await the findings of a judicial inquiry before any action can be taken against him.
However, the Political Affairs Committee of the party chaired by Chief Minister Arvind Kejriwal disapproved of the language used by Bharti against senior BJP leader Arun Jaitley and noted lawyer Harish Salve and asked him not to use foul language in public discourse.
Kumar said Bharti will file a written reply as the minister had received four separate complaints by four different women.
"We are going through the letters of complaints and will soon file a written reply because we have got the notice and we don't want to evade the due process of law and duly authorised representative can speak on behalf of the law minister," he said.
The DCW said five Ugandan women have recorded their complaints with it.
The DCW chief said three of the Ugandan women have claimed that unknown persons had forcibly entered their house in the middle of the night asking for their passports and started searching their suitcases.
"Two of the Ugandan women have stated that they were stopped while returning from work and forced to give urine samples while sitting in a taxi," Singh said.
Bharti on Friday attended a kite flying event organised by Delhi Tourism.
In its statement, AAP said Bharti, who also holds the tourism portfolio, could not go to DCW as he was to attend an official engagement of his tourism department followed by a function organised by the Lt Governor.
"Both the programmes had been scheduled much in advance and therefore, Bharti through his lawyers wanted to inform the DCW that he will appear before the commission at a later date. This was done by Bharti despite the fact that the summons by the DCW were sent to him on wrong addresses, but showing full respect for the commission he decided to be represented before it," the AAP said.
"The attempts by the DCW chairperson, who is a former MLA of the Congress party, to create a controversy on the issue clearly shows her political intentions," it said.