Delhi's controversial Law Minister Somnath Bharti failed to appear before the Delhi women's commission on Friday and instead chose to attend a kite festival.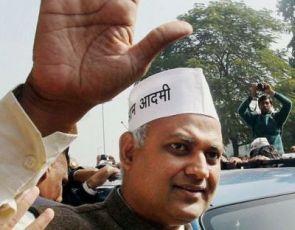 The minister sent his lawyers who had a public spat with the panel chief Barkha Singh after she refused to entertain them.
The women's panel had summoned Bharti following allegations that he led a group of AAP workers who misbehaved with a number of African women on the pretext of a raid on an alleged drug and prostitution ring in South Delhi last week. He was asked to depose before the commission on Friday to explain the charges against him but he sent his lawyers, who said he was absent due to "some urgencies".
DCW Chief Barkha Singh said the commission had asked the minister to depose before it and would not accept explanation of his lawyers.
One of Bharti's lawyers Rishikesh Kumar said Singh did not allow them to put across his point on the issue.

"I have been asked by Somnath Bharti to represent him in Friday's proceeding. I came at 3 pm and as I entered inside I saw many camerapersons were already present there. So I said that it's already 3 o'clock and we have been sent by Bharti to represent him," he said
"We were told lawyers cannot represent. I said I have got the instructions. I have got the authorisation and can you please let me speak? Then she said no, you are a lawyer. But I kept saying that we have a humble submission. I told her that because of some urgencies Bharti might not be able to attend Friday's hearing," Kumar said.
The AAP had on Friday decided to back Bharti and to await the findings of a judicial inquiry before any action can be taken against him.
However, the Political Affairs Committee of the party chaired by Chief Minister Arvind Kejriwal disapproved of the language used by Bharti against senior Bharatiya Janata Party leader Arun Jaitley and noted lawyer Harish Salve and asked him not to use foul language in public discourse.
Kumar said Bharti will file a written reply as the minister had received four separate complaints by four different women.
"We are going through the letters of complaints and will soon file a written reply because we have got the notice and we don't want to evade the due process of law and duly authorised representative can speak on behalf of the law minister. That's what we are trying do but there was already a lot of chaos," he said.

Image: Delhi Law Minister Somnath Bharti was summoned by the Delhi women's commission over a midnight raid in the capital