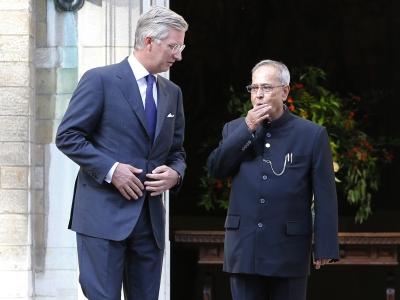 Belgium's King Phillippe on Friday recalled his long association with India during a lunch he hosted for President Pranab Mukherjee, including time spent in the Indian leader's home state of West Bengal as a young backpacker.
"As a young man, I was a backpacker in Bengal and it was an invigorating experience. What I liked most is the depth in the eyes of Indian citizens," Phillippe told Mukherjee during the lunch in the historic Throne Room of the Royal Palace of Brussels.
"This is the time when everyone back in India is preparing for Durga Puja, which symbolises the power of good," the 53-year-old monarch said.
Phillippe recalled that he had led four economic missions to India as the Crown Prince, and said, "Whenever I visited the World Economic Forum in Davos, I always visited the Indian pavilion."
Referring to the Europalia-India festival on Indian culture, set to open in Brussels before it makes its way across Europe between October and January next year, the King said this was "an opportunity in the capital of Europe to approach the mysteries of another culture".
Phillippe said he was grateful that Mukherjee had come from India to "underline the importance of ties between the two countries which is also a dialogue between two ultures". He also complimented the 78-year-old President, describing him as a "consensus builder in India".
Mukherjee thanked the monarch. In a rare gesture, Philippe came to the tarmac to receive
Mukherjee when he arrived in Brussels on October 2. Mukherjee is the first Indian President to visit Belgium.
Mukherjee, who will be in Belgium during October 2-5, has held discussions with the King, who invited him for the state visit, and other top leaders.
Image: President Pranab Mukherjee is welcomed by Belgium's King Philippe at the BrusselsRoyalPalace
Photograph: Yves Herman/Reuters