NCP chief Sharad Pawar believes that Gujarat Chief Minister Narendra Modi's popularity may not translate into votes to give him a clear nod to become prime minister, says Sheela Bhatt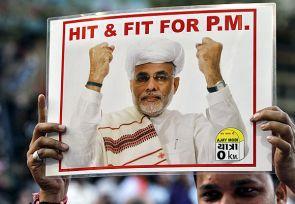 Sharad Pawar is a genius weathercock of Indian politics. It is significant that he has declared war on Gujarat Chief Minister Narendra Modi by trying to cut him to size. Pawar has said that he does not understand what Gujarat model of development Modi is talking about. Pawar has hit hard an ambitious Modi for projecting himself too much.
Pawar's Maharashtra-based Nationalist Congress Party, by admission of his own colleague, is likely to get not more than 12 seats in the next Lok Sabha, but Pawar strangely enjoys disproportionate political weight compared to his actual position inside Parliament since the last two decades.
When Pawar sends a forecast, even the prime minister of the day has to sit up and hear him carefully to know where the political wind is blowing.
In a two-hour-long, 24-carat interview, to The Economic Times, the man-who-could-never-become prime minister says a few important things. The timing of Pawar's interview suggests that he, too, is unsure of the longevity of the government,and when the outsider Modi is at the doorstep of Delhi, it's time for the insider of Delhi's power structure to take position.
This government can go if…
Pawar clearly draws the attention of the nation to the vulnerable position of the UPA government. He says, 'When Parliament starts from next week, there are many money bills and even if one demand is defeated, the government will go." He says that Beni Prasad Verma, steel minister of UPA, should resist abusing Mulayam Singh Yadav.
"When they (Samjawadi Party) are supporting us (UPA government) and I start abusing them every day, one day the leader of the party might take a different stand." Pawar warns that, "If we keep abusing them, then there might be a fatal accident."
His support to the Food Bill lacks conviction
At many places Pawar contradicts himself in a big way. Like, on the issue of Food Security Bill that talks about cheap food to every poor Indian. On one hand he says he is supporting it but gives away very convincing weaknesses of the Food Bill of his own government if it is implemented. The interview's tone and intention indirectly suggests that it is his assessment that if the Food Security Bill is implemented the mood of the nation will change, but his "ifs and buts" on food bill are too many to sustain the point that UPA will benefit from the bill.
Pawar explains that how implementation will create big issues of corruption and problems for farmers because if Rs 2 kg wheat and Rs. 3 kg rice comes stealthily to the black market, who will buy farmers' products?
Also, he says subsidy will be huge if the implementation is improper and if the weather fails it will fail the crop. He says the next government will find it difficult to pay a higher price for farm produces to farmers. Pawar's contention is that the Food Bill will uplift UPA's political chances but then he only negates his own argument. In short, if the UPA stands little chance then who is Pawar aiming at?
Narendra Modi. Obviously.
First round of Modi bashing
Pawar is such a toughie in politics that he is the last man to sit in value judgment of any leader. But he has taken into account the communal-secular divide for and against Modi when he says the leader should not be just popular but, also, secular.
He finely dissects Modi. He snubs Modi's penchant for projecting himself. He says that if an individual projects himself too much it never materialises in New Delhi. Then, he tears into Modi's lack of quality to be a team leader by asking,"One has to assess every chief minister and his success, his rating and how far he has succeeded in developing his own colleagues. If you feel there is a galaxy of capable leaders he has developed for Gujarat and you can name them at least that will be a good addition in my political knowledge!"
As if this hurt inflicted to Modi was not deep enough, he praised Shivraj Singh Chauhan, intra-party competitor to Modi. He even goes further and says that there will be an "anti-Modi" vote and that Congress is likely to get the anti-Modi votes. Pawar says, "So in these elections if the public comes to the conclusion that XYZ (Modi) should not come, they will find who can defeat XYZ and there the Congress will be benefited."
He even supports L K Advani in his Modi-bashing. When asked, "Is Advani better suited then?" He replies, "I am only saying generally people's thinking is that."
Pawar, four-time chief minister of Maharashtra claims that, "I will give more marks to Madhya Pradesh and Chhattisgarh than Gujarat. So, I don't understand the Gujarat model. The total investment in industrial sector even today in Maharashtra is much higher and Gujarat cannot even be compared." Modi must be feeling the excruciating pain to see one of the senior-most leaders without using many words saying so much against him. One is a decades-old favourite of corporate India, another, still a learner of how vested interests in India's corporate world functions.
In Goa, when both leaders had attended the wedding of one of the richest Gujaratis, Gautam Adani's son in February, they had met privately in a five star hotel. But after that private meeting many things have happened.
Modi is successfully projecting himself more and more. He is an outsider set to shake the old foxes of politics including Pawar. Not just Modi's supporters but many top political leaders of regional parties have now started claiming, privately, that in urban Indian middle class there is an undercurrent in favour of Modi. However, Pawar seems to be reading more and deeper.
Like many, he thinks that Modi's popularity may not translate into votes to give him a clear nod to rule over India. Like Congress and the anti-Modi forces even Pawar believes that the Bharatiya Janata Party will not get even 190 seats in the next election. This creates hope for Pawar to play a crucial role in the post-election politics. Many political leaders have, recently, started saying that Modi may fizzle out in 3-4 months like Anna Hazare.
To grab the advantage out of rapid changes taking place today, leaders have to take a position against Modi, against Modi represented communalism, and against Gujarat model of development (that's why the clumsy support to the Food Bill by Pawar).
If regional leaders like Nitish Kumar, Jayalalithaa, Naveen Patnaik, Mamata Banerjee, Mulayam Singh Yadav and Pawar's party get more seats than the Congress, and are competitive enough to dictate BJP, then there will be political benefit to unite on a post-election platform for the regional leaders.
Then, Modi's chances of becoming prime minister are, almost, nil, says a senior colleague and confidante of Pawar while talking to select few in the media on Thursday, the day Pawar's interview was published.
Pawar explained it when he says, "They (BJP) have good positions in Madhya Pradesh, Chhattisgarh and Gujarat, others say BJP will improve its chances in Rajasthan and other places, but with these I don't see the number of 180-190. That type of atmosphere I don't see in the country. The Congress too has a similar problem."
After the election, if the results are on the lines of the recent Times Now-C-Voters survey, where Congress got 113 seats and the BJP is projected to get around 141 seats, then Pawar's Modi-bashing makes political sense.
The BJP-Congress combined projection does not cross 272 seats. In this scenario the regional parties can unite to ask for a "secular" PM and in spite of the BJP becoming the largest single party it may not have much space to maneuver to make Modi PM. Pawar is striking against Modi which means his assessment matches with the survey.
His party colleague, while decoding his boss's interview says, "My leader believes that the next prime minister will be a secular leader. And if Congress is in position to form the government it will repeat PM Singh." When asked why the anti-Modi bashing now, so early in day, Pawar's colleague explained it differently. He says, "We believe that if Congress manages to get only 135 seats in the next election even then it has inherent ability to weave the majority of 272. Congress is experienced, flexible, manipulative, has wider acceptance and knows how to use the plank of secularism to its fullest advantage. What Modi can't do with 170 seats, Congress can do wonders with ten-twenty less seats."
He further explained, "Modi is a pompous man. He is more pompous than what he was last year. His body language is the problem. When Pawar sahib speaks he takes into account political relationships of the leaders as well."
Pawar has taken the position to set the agenda when there are many besides Congress who want to join the 'stop Modi politics'. In the background of what Pawar said is, surely, the popularity of Modi that has forced him to do some cold calculations. The plain calculation of senior leaders like Mulayam Singh Yadav and Pawar is that, as and when Modi arrives there will be Muslim polarisation against him. But the Hindu polarisation will not be enough to give BJP 190 to 220 seats which will help make Modi the national leader.