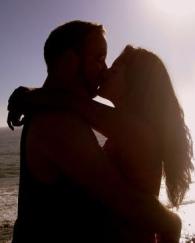 Activists of the Bajrang Dal and the Vishwa Hindu Parishad on Friday threw rotten tomatoes at couples celebrating Valentine's Day on the banks of Sabarmati river in Ahmedabad.

Couples were seen running to save themselves when a large group of Bajrang Dal workers suddenly thronged the place and started throwing tomatoes at them. Some of them tried to escape in their vehicles while others ran for cover.

No complaint has been lodged with police so far in connection with the incident.

Hundreds of couples were present at the Sabarmati riverfront today morning to celebrate Valentine's Day.

The Vishwa Hindu Parishad and the Bajrang Dal organised programmes
in the city to protest "indecent" celebration of the day.
Bajrang Dal city president Jwalit Mehta, who led the charge, told PTI that they had been going to colleges in various parts of the city over the last few days to educate students about the "negative influences of imbibing western traditions".
"Many students supported our endeavour. But there were many students and others who thronged the riverfront today. We threw rotten tomatoes at them and they ran away from there," Mehta said.
"There is nothing wrong in imbibing the positive aspects of western culture, but the VHP and the Bajrang Dal are against obscenity in the name of westernisation. Valentine's Day is one such obscene celebration," he said.
Later, the activists burnt Valentine's Day cards at the same venue.