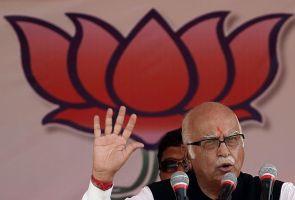 Senior BJP leader L K Advani, who had initially opposed naming of Narendra Modi as PM candidate, on Sunday showered praise on him but cautioned against "over confidence" which had spoiled the party's chance of retaining power in 2004.
"I have not seen so much enthusiasm and self confidence, I congratulate party president Rajnath Singh and other colleagues who decided that we will make Narendra Modi as the PM after we get the majority in these elections," Advani said while addressing the party National Council.
Applauding the election campaign which has been going on for the past five-six months led by Modi, he said he had not seen any other politician address so many "massive rallies".
He noted that Modi has already addressed 77 rallies and 100 will be completed soon.
At the same time, he had a word of caution.
"We lost 2004 elections because we had become over confident. This Lok Sabha elections, we have to ensure that we do not become over confident and fight the elections with only with confidence," the former deputy prime minister said.
He praised Modi for his track record in governance in Gujarat as well as the crowds his rallies attract.
"There are many achievements of Gujarat for which everybody including its chief minister Narendra Modi can be proud of. But the way the water of Narmada was brought to Sabarmati river, it (achievement) was given such a spectacular dimension... I want to congratulate Modi for that," Advani said.
Advani said he had taken a ride by a water launch along with Modi when the linking (of rivers) was done and the entire experience was such as if one was taking a ride in Paris or some other European city where river flows through the middle of the city.
His praise for Modi assumes significance as he had initially strongly opposed Modi's anointment as PM candidate.