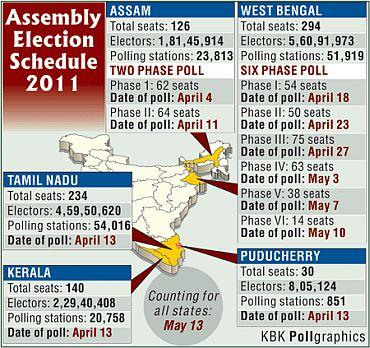 A six-phased assembly elections in West Bengal, a two stage poll in Assam and a single day poll in Tamil Nadu, Kerala and Puducherry were announced by the Election Commission on Tuesday, setting in motion the largest such exercise after 2009 the Lok Sabha polls.

With parts of the state affected by Maoists activities, West Bengal will have elections in six phases on April 18, 23, 27, May 3, 7 and 10, in perhaps the longest ever in the state, also known for political violence.

Tamil Nadu, Kerala and Puducherry will go to polls on Apri1 13, Assam's two-phased poll is scheduled on April four and 11.

Counting of votes in all the five states will take place on May 13.

The

model code of conduct has come into force immediately, Chief Election Commissioner S Y Quraishi said announcing the schedule.

While West Bengal has 294 assembly constituencies, Tamil Nadu has 234, Kerala 140, Puducherry 30 and Assam 126. The elections are the first battle of the ballot in 2011 and would involve over 14.39 crore electorate in the five states with West Bengal having the largest number of over 5.60 crore electors followed by Tamil Nadu 4.59 crore.

While Kerala has 2.29 crore electors, Assam 1.81 crore and Puducherry is merely over eight lakh. Polling will be held through Electronic Voting Machines (EVMS).